A lot has happened since Ben Rector performed concerts downstairs from the cafeteria of the Pomfret Hall dormitory. As an undergraduate, Rector was juggling two worlds: that as a marketing student at the Sam M. Walton College of Business, and the other as an up-and-coming musician with weekend gigs.
"I tried to stack all my classes on Tuesday and Thursday, and leave Thursday night or Friday morning," he says. "That was an interesting double life."
In between hitting the books, Rector was always finding ways to make some pocket change through performing, and even managed to release a music album his freshman year. In 2006, he won the grand prize in the pop category of the John Lennon Songwriting Contest for his song "Conversation."
By his senior year, the singer-songwriter whose diverse music talent ranges from folk to pop had released three full-length albums, performed about 200 gigs and was engaged to be married. He also made another big decision about life after graduation: moving to "Music City U.S.A." – also known as Nashville, Tenn.
That was in 2010. Rector and his wife, University of Arkansas graduate Hillary Swanton Rector, have since watched his career flourish. His 2011 album, "Something Like This," peaked at No. 15 on Billboard magazine's Top Rock Albums and fared even better at No. 11 in each category for the magazine's Top Digital Albums and Independent Albums. His music has been featured on television shows from "ESPN SportsCenter" to ABC's "Modern Family."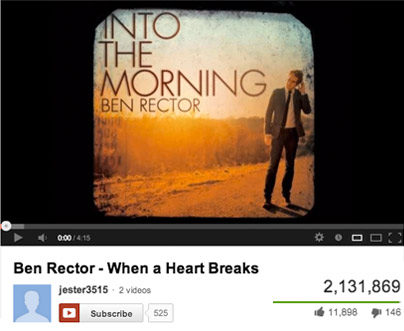 In high school, Rector filled much of his time writing songs, playing the guitar and singing. "It felt really natural for me, and it was something I really enjoyed," he says. But there was the matter of college. His older sister had attended the University of Arkansas, which wasn't far from his Tulsa, Okla., home. He says he already liked Fayetteville from visiting here. When the university offered him a scholarship, it was hard to refuse, he says.
As for a major, he decided marketing would provide a good foundation to just about any career he pursued. When it was apparent that having a music career was essentially launching a business, he began applying things he learned from his business classes. Now, Rector says he plays an active role in finding new and creative ways to market his songs and concerts. "Obviously, the huge part of making music is, hopefully, that people will know you are making music and want to buy it or want to come to shows," he says. He says he found good mentors in Dr. Molly Rapert, marketing associate professor who already knew his sister, and Mark Risk, a real estate instructor with the finance department who encouraged Rector with his aspirations in music. Rector, in fact, did a commercial real estate internship in Dallas as a student. "I spent a lot of time at the W-C-O-B," he says.
After a tour this spring, there's no time for rest. Rector says he'll release a new album followed by another tour, possibly in the fall at the earliest. And he doesn't mind at all. "Things have grown quicker than I thought they would," he says. "I've just been really fortunate to do something that I love."
(Posted May 2013)