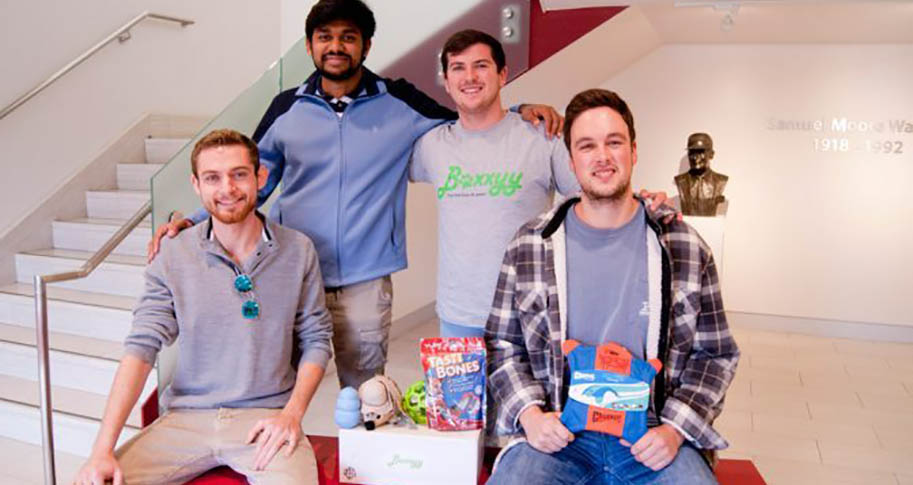 It started as a class assignment. It became a pet product company that helps animal shelters.
The company's founders were enrolled in the Entrepreneurship and New Venture Development class at the Sam M. Walton College of Business. Mark Zweig, management executive in residence with the University of Arkansas, instructed his class to form teams and develop a business plan. Five of those students – only two of whom knew each other – combined forces and brainstormed. They quickly discovered they all had something in common: They loved pets.
Then they made another discovery.
"We all realized that animal shelters were underfunded in different communities," says Konrad Woelffer, a senior majoring in marketing management at Walton.
The team came up with Boxxyy, a monthly subscription service for pet lovers. Visitors to Boxxyy's website can choose a box filled with treats and toys for either a dog or a cat starting at $25. For each box purchased, Boxxyy donates a customized box filled with supplies to an animal shelter in the consumer's area or where designated, says William Walker, a junior majoring in business management and Boxxyy's product research manager. The company, which launched in October 2016, began sending boxes to its customers in early 2017 after a successful Indiegogo crowdfunding campaign and is attending the 2017 Vegas Pet Expo in Las Vegas.
The project began the previous August when the team hit the ground running, meeting at common areas in their apartment complexes or wherever they could find a table – in addition to going to school full time with a few having other jobs as well. William began looking for unique, quality pet products to fill boxes and pricing them. Nick Boyd, a management senior from Plano, Texas, researched the logistics of a mail-order business as Boxxyy's supply chain manager and Jordan Barrett, a Walton graduate student from Russellville, was named vice president of operations.
Woelffer, Boxxyy's chief executive officer, came up with a blueprint for the website, which the team members all had a hand in building. Sanjay Jenkins, a senior majoring in management from Joplin, Missouri, and Boxxyy's vice president of sales, began strategizing.
The team also visited animal shelters in Washington County to gauge their needs before venturing out to those in Little Rock and Russellville, all who are potential partners. William says while these facilities may be different, they all have the common challenge of operating on limited funding with the animals' minimum needs met, at best. "A lot of time, the people in the shelters spend their own money," William says.
A donated package filled with supplies could help ease the burden. "Our goal is to grow and give back," Konrad says of Boxxyy.
Of course, there's the name.
"When you look at the Boxxyy logo, you notice the two X's and two Y's," Konrad says. "The reason for that is because for every boy, there is a girl. For every cat, there is a dog. For every box that goes to your home, there is a box that goes to an animal shelter."
Though the class laid the groundwork for Boxxyy, with Zweig offering guidance, they all say ingenuity is something you can't learn. "It's not necessarily what we learned in there, but how we apply it," William says.
Nick admits there's a perk to working with Boxxyy – getting first dibs on trying out new products on his rescue dog, Sam.
But the big picture is never out of sight. "The reason why we do this is that we just love pets," Sanjay says.