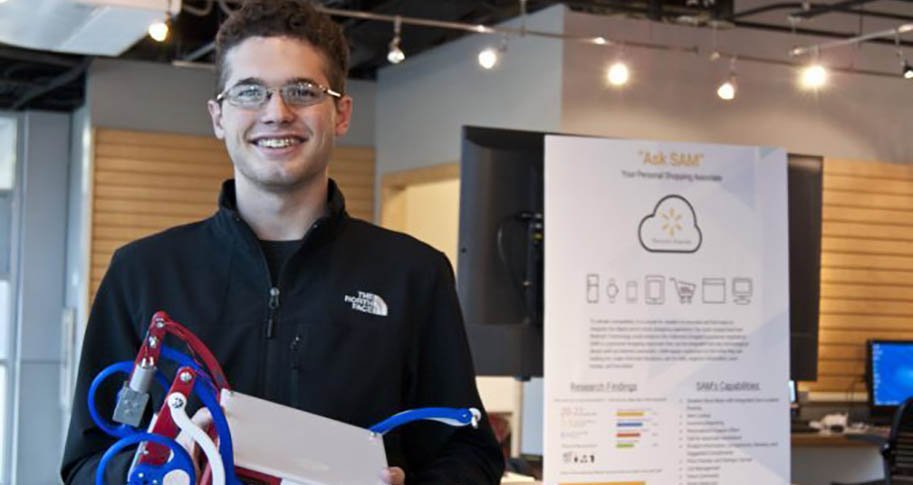 Canon Reeves loves robots. He enjoys designing, building and programming them. In fact, he spends much of his time thinking about how they can better people's lives.
As a sophomore majoring in computer science at the University of Arkansas, he's finding that a lot of his visions are on their way to becoming realities through the McMillon Innovation Studio, which helps University of Arkansas students to create and think innovatively. "I'm getting experience and I'm learning how to work with people," he says.
As a student manager at McMillon, Canon specializes in robots. He says working for McMillon was serendipitous. One day he received an email about job opportunities and he gave it a glance. An opening at McMillon caught his attention. He applied and started working there in the fall of 2016.
Canon's duties at McMillon include leading two development teams, one working with computer vision and self-checkout for NCR, a hardware, software and electronics company, and the other working on a robotic shopping cart with Five Elements Robotics. He has also worked with the robotic delivery service on campus, Starship Technologies.
When McMillon presented its first Innovation Studio Design Contest in April, Canon organized a four-member team named Lovelace Technologies consisting of University of Arkansas business and engineering students. His team, and five others, were tasked with solving real-world business problems. Lovelace Technologies won $10,000 for designing a low-cost method for Tyson Foods Inc. to perform real-time asset tracking, which includes a website and email system that notifies employees when an item is missing. The design involved a module that can be placed in a cabinet and read radio-frequency identification tags affixed to objects. This technology could be used for all sorts of businesses needing to track assets, such as hospitals, for example, Canon says.
After winning the competition, team members put their earnings into making Lovelace Technologies a company and hope to launch a pilot program with Tyson beginning as early as January 2018.

Meanwhile, Canon is minoring in management and taking an entrepreneurship class at the Sam M. Walton College of Business as he helps grow Lovelace. "A big part of being in the studio was learning the business side of it," he says.
He is also co-leading a team of university students in the NASA Robotic Mining Competition as they design a robot to mine Mars' icy gravel for samples to bring back to Earth.
Canon grew up in Searcy and, because of his strong interest in robotics, attended the Arkansas School for Mathematics, Sciences and the Arts in Hot Springs. He says one of his earliest projects was building a robot that could shoot Frisbees into a goal. He has since become skilled at utilizing 3D printers for parts.
Canon is also developing a new type of code school in his Social Entrepreneurship class. The school uses existing curriculum to teach marginalized adults in the community how to become web developers while giving them experience through creating websites for small businesses in the area. By the end of the six-month course, participants will have everything they need to find a well-paying developer job, he says.
"I think technology connects us," he says. "It has the ability to connect us in unique ways."
When he's not plotting his next robot design, Canon can be found outdoors. If he's free to do a little traveling, he's hiking the "Fourteens" – mountain peaks in the United States that are above 14,000 feet. He also enjoys mountain biking. "Anything outdoors I can do, I jump on it," he says.
And indoors, he can often be found at McMillon.
"It's a really relaxed space," Canon says. "It's better than working in my room."