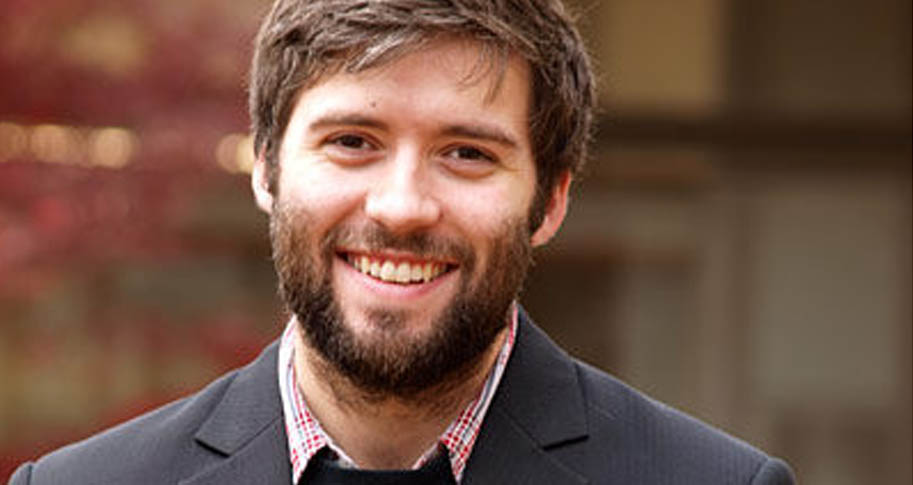 Chris Moon chose the Walton College of Business because of its excellent reputation and the opportunities it offered. Now a senior majoring in information systems and German, Chris has taken challenging classes, studied abroad twice, and met with representatives from some of the biggest technology companies in the nation.
"If you're going to go to the University of Arkansas, you should consider the business college," says Chris, pointing to the abundant resources and high rankings of the Walton College. He emphasizes that the student body at Walton is very diverse, and not all students are headed for traditional business careers. His major, for example, could lead to a job as a video game developer, and he knows of several students who are planning to attend medical school after graduating.
As an honors student, Chris has taken advantage of study abroad scholarships to travel to Germany and China. In Germany, he stayed with a host family and took literature, grammar, and German culture classes. In China, he attended the Shanghai University of Finance and Economics, where he studied Mandarin and Chinese business management. Chris said that studying in China was a valuable learning experience, because the pace is so different there. "Life is 100 miles per hour all the time," he said, explaining that this taught him how to deal with chaos and accept that he can't always be in control. "That experience was the highlight of my college career."
Chris also values the networking opportunities he has found in the Walton College. Recently, he attended Unite, the Unity 3D development conference, and was able to discuss his honors thesis project with the head of Unity's Android operations. Chris is designing a mobile application that combines augmented reality and RFID technology, which could make RFID data more tangible while allowing for increased productivity and reduced inventory loss. For example, a cell phone with this app would show a video image of its environment, adding information about any RFID-tagged objects within its range.
Chris recently accepted a position at Hewlett-Packard, and he explained that was drawn to HP as they are one of the largest, most profitable, and most environmentally friendly companies in the world. Chris would not be the first Arkansas graduate to work for Hewlett-Packard; their Chief Information Officer is a University of Arkansas alumnus.