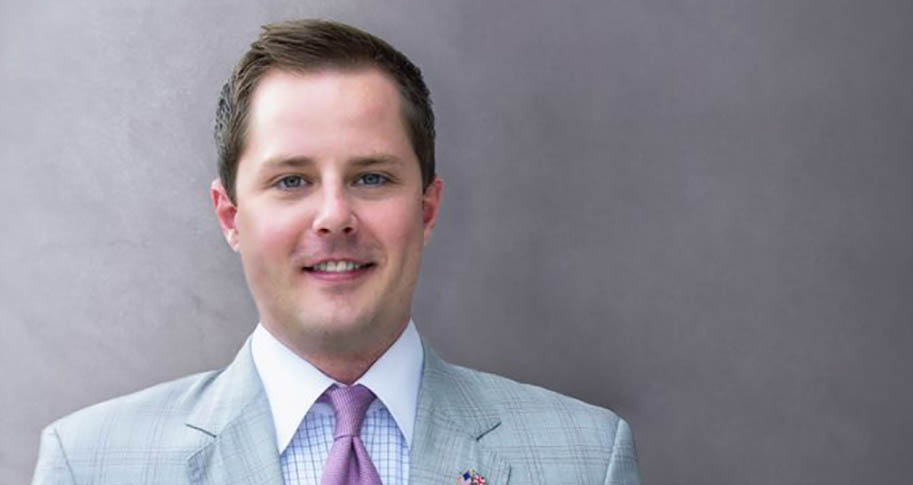 Houston is a city where oil is big and buildings fill the skyline. But securing office space in one of those buildings, or any real estate, in the nation's fourth largest city can be daunting.
For Collin Grimes, it's another day on the job. Grimes is a First Vice President of Global Corporate Services for the CBRE Group Inc., a Fortune 500 company that serves companies, investors and occupiers worldwide. Based in the Houston office, Grimes finds commercial real estate space that fits his client's needs and negotiates contracts to everyone's satisfaction. Self-motivation is required to keep his roster filled with clients. "When you're a real estate broker, you're an entrepreneur," he says.
Grimes, who earned a finance degree in 2006 from the Sam M. Walton College of Business, has spent his entire post-college career with CBRE. He began as an associate and worked his way up, receiving a promotion each year for the past four years.
Real estate, in many ways, is a way of life for Grimes. His father worked in real estate for ExxonMobil, which prompted his family to move frequently. Although Grimes didn't pursue a corporate real estate career like his father, he instead focuses on commercial real estate.

Grimes graduated from high school in The Woodlands, Texas, and attended the University of Arkansas so he could be near his grandparents, who lived in Rogers. Through them, he became an Arkansas Razorback fan. Through Walton College's national rankings, he knew he would get a solid business education.
At first, Grimes thought he wanted to be a stockbroker. But he changed his focus after a class assignment required him to give a presentation to Electrolux managers on the pros and cons of a particular product. "It all had to do with sales," he says.
"That's really what commercial real estate is," he says. "It's creating an opportunity to help clients."
During summers and spring breaks as a business student, Grimes interned with Staubach Co. Inc., a real estate advisory service based in Dallas that was operated by former NFL quarterback Roger Staubach before it was sold. His internship experience has since led him to encourage undergraduates to pursue summer internships because of the opportunities they provide for the future.
Grimes, now a nine-year veteran with CBRE, looks forward to a successful future. He says he enjoys leveraging his client's position, negotiating with landlords and owners and showing his clients created value. "To see their reaction and wanting to continue work with you, I think, truly, is the value," he says.