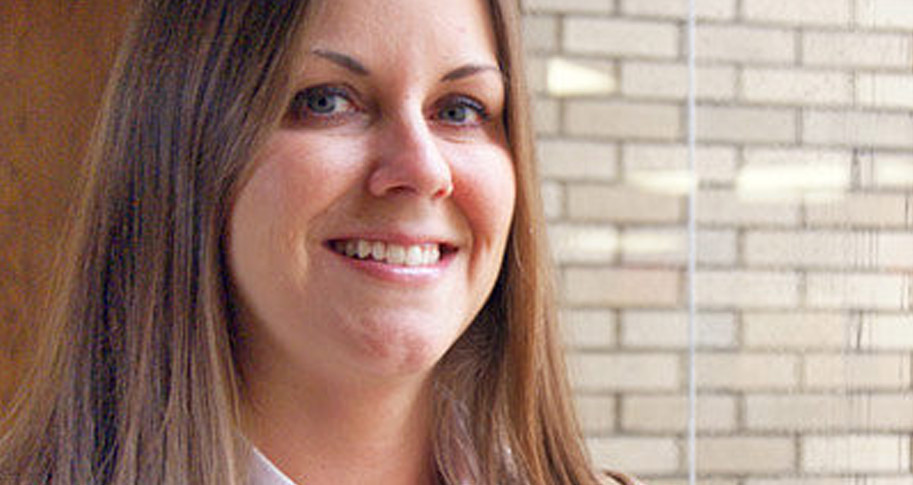 Robin Soster is getting used to the ribbing when people step inside her office. On the wall is a Gamecocks banner from her alma mater, the University of South Carolina.
"That's probably my favorite thing: when people come in my office and ask me where I'm from," she says.
Newly transplanted from South Carolina, where she has spent most of her life, the Department of Marketing assistant professor says she's already warming up to the Gamecocks' rival, the Arkansas Razorbacks. Also on her office wall is one of many famous hog hats worn by diehard Arkansas sports fans. Because both the Gamecocks and Razorbacks are Southeast Conference teams, she says this helps her feel like she's not so far from her hometown. In fact, until her job interview at the University of Arkansas, she had never stepped foot in the Natural State.
There have been Arkansas connections, however. Midway through graduate school at the University of South Carolina while pursuing her marketing MBA, she found herself working for Gamecocks football Coach Lou Holtz, who once coached the Razorbacks. Through her alma mater's FABER Entrepreneurship Center, she helped design the team's promotional hats and T-shirts.
Soster, who teaches consumer behavior, says her academic journey into marketing stemmed from a question she asks herself when she goes shopping: Why am I buying this? Though she earned bachelor of science degrees in both management science and economics, she says the behavioral aspect intrigued her. "Marketing was just the natural fit for me," she says.
Her ability to "practice" consumer behavior was one of the many aspects that attracted her to Northwest Arkansas. Up the road in Benton County are plenty of shopping centers and stores. She says her husband, Eric Soster, and three children love the "cool" and "funky" side of Fayetteville and get out and enjoy the Ozarks as much as possible.
Soster's journey to academia was a winding one. Before deciding to go back to the University of South Carolina to pursue her Ph.D., she was a marketing and financial analyst for a private equity firm, worked as a computer programmer and even toyed with becoming a high school teacher until she had the opportunity to teach an undergraduate course at Winthrop University in Rock Hill, S.C. Once "bitten by the teaching bug," she decided to go back to school, completing her degree in 2011.
As one the newest faces at Sam M. Walton College of Business, Soster says she hopes she can leave a lasting impression with her consumer behavior students. She says she challenges them to make rational decisions in the marketplace and to be the kind of managers that enable other consumers to do so as well. She says she tries to convey this message through humor (on her non-teaching days, she can be found in her office wearing a Mickey Mouse T-shirt) and assigning her students books business professionals are reading.
"People like seeing how irrational we humans can be," she says. "We do not necessarily think like economists!"