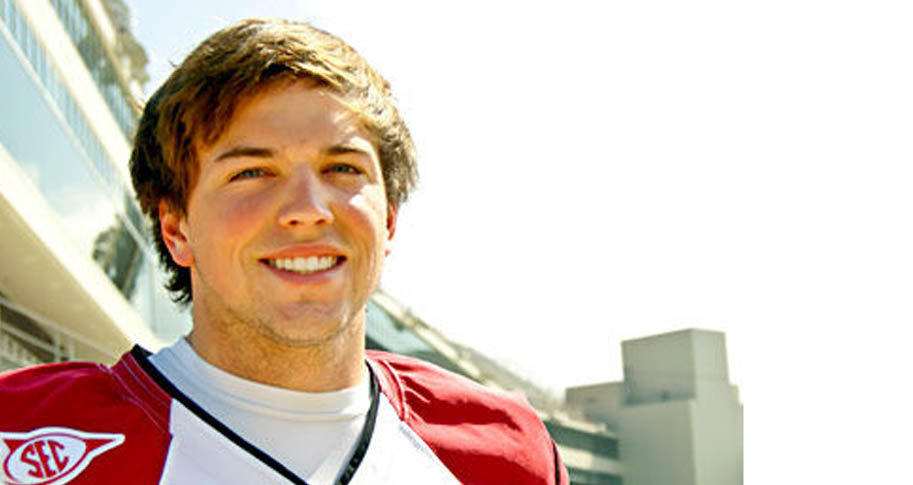 Nobody offered him scholarships. Nobody recruited him. But Dylan Breeding knew he had to try for a spot on the Arkansas Razorback football team.
A talented punter, Dylan dreamed of playing college football. Ideally, it would have been for the University of Alabama, located near his hometown of Hoover, Ala. But when there was no opening for a punter on the Alabama Crimson Tide football team, he began looking elsewhere.
The Razorbacks needed a punter. He contacted the coaches.
"They were really excited that I was coming," he says. "But nothing was promised."
In June 2009, immediately after graduating from high school, he moved to Fayetteville, enrolled in summer school and, by August, began football practice, where he was designated as a preferred walk-on, which assured him a spot on the team but no scholarship money.
Two days before the 2009 football season began, Dylan was informed he would be the starting punter. From there, it kept getting better. That season, the team went to the Liberty Bowl. The next year, it was the Sugar Bowl. Then, in January, Dylan punted in the Cotton Bowl with a win that ranked Arkansas No. 5 in the nation. (His career long, so far, happened against Louisiana State University last November with a 70-yard punt.)
As a punter, Dylan explains his role on the Razorback team succinctly.
"My goal as a punter is to give our team the best field position possible," he says.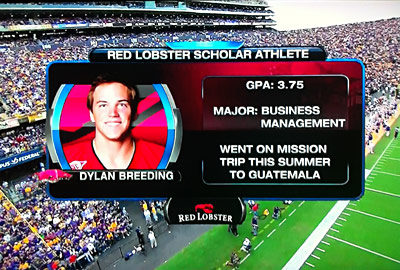 He's also working for the best position possible off the field. One way he's doing it, he says, is by attending the Sam M. Walton College of Business, where he's majoring in marketing. Even with training, practice and football games on the road, Dylan is in the Walton College Honors Program, which motivates him to keep at his best, he says. That means studying whenever he gets a chance, especially on Sundays. "The discipline is that I don't sleep much," he says.
Dylan says playing professional football is his goal, though he says he feels he needs to improve. "I would like to play football in the future, but I need to be able to fall back on a career as well," he says. Intrigued by marketing concepts, Dylan says sports marketing would "obviously be the way to go."
He says his first visited to the University of Arkansas was a bit of a whirlwind tour. But he says he soon learned that Walton College had a great reputation. "I liked the business college – it being so prestigious," he says.
Since coming to the university nearly three years ago, Dylan has earned a scholarship. He also was nominated for the Brandon Burlsworth Trophy the past two seasons, which goes to an outstanding football player who began his career as a walk-on, and the Rudy Award, which honors student athletes who demonstrate exemplary character, courage, contribution and commitment as members of their team on and off the field. In January, Dylan was selected to the 2011 Southeastern Conference Fall Academic Honor Roll and the All-SEC second team for football.
Off the field, and outside of the classroom, Dylan is active in Fellowship of Christian Athletes, which has active Razorback members, and speaks to groups on behalf of the organization. He also plays golf.
One other thing has happened as well: confidence.
"I don't feel as much pressure as I used to," he says. "I just take it one punt at a time."
Dylan says he expects to graduate this December, which leaves him a few months until the NFL draft. "I'm going to stay up here, train and hope for the best," he says.