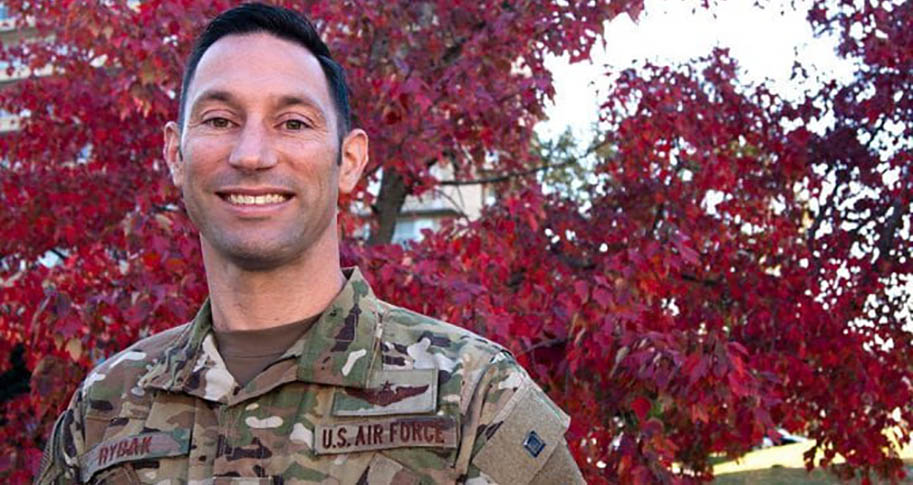 At the age of 23, Garrett Rybak sat in the cockpit of a T-34 with the engine roaring and propellers spinning. After the requisite safety checks, he grabbed the controls and sped the aircraft down the runway until it went airborne into the Wild Blue Yonder.
It was his first solo flight.
The experience seems a little surreal now, and he likens it to when parents toss their car keys to their teenager for the first time. "The level of responsibility that's given to you at such a young age in the military is incredible," he says.
Yet that experience initiated his career as an Air Force pilot, flying missions all over the world. But his latest assignment is keeping him on the ground, and his most dangerous endeavor nowadays is navigating rush hour traffic on Interstate 49.
Now an Air Force major, Rybak is an active-duty Ph.D. student with the Department of Marketing at the Walton College and, at times, can be seen wearing his uniform on campus as a reminder of who he is in a sea of civilians. Once he completes the program, he will teach marketing at the U.S. Air Force Academy, a military institution for undergraduate cadets, near Colorado Springs, Colorado.
Rybak grew up in Victoria, Texas, a town with a humid subtropical climate near the Gulf Coast between Houston and Corpus Christi. A quarterback on his high school football team with no plans of joining the military, Rybak was caught off guard when his coach surreptitiously submitted his highlight reel to the Air Force Academy football coaching staff. Shortly thereafter, a USAFA football coach showed up on his doorstep and offered an official visit to the academy.
"I remember waking up at the academy hotel and it was snowing out," he says. "It was surreal, and I was hooked."
Not only would the Air Force take care of the tuition, Rybak was offered a spot on the Air Force Falcon football team. During the off-season, he earned his jump wings by skydiving five times, leaping from 3,000 feet with 10 seconds of freefall. During his free time, Rybak played an active role in the Fellowship of Christian Athletes and his squadron's military duties. Upon graduation, he would then commit to at least 10 years in the Air Force once "winged" as a pilot. He signed the dotted line.
The self-proclaimed thrill-seeker earned a degree in systems engineering management and went into pilot training at the Naval Air Station Whiting Field near Pensacola, Florida. He learned to fly in formation, conduct instrument flying and perform aerobatic maneuvers.
After completing pilot training, Rybak chose the C-130 Hercules as his aircraft. The C-130 has a broad mission from airdropping supplies and paratroopers to landing on rough, unimproved runways. While training for the C-130 at Little Rock Air Force Base, he met a woman and fell in love. The two quickly married, Garrett reported to duty in Japan and then returned later for a proper wedding.
For 3½ years, he and his wife Erin were stationed at Yokota Air Base in Japan, and he flew several combat, disaster relief, and humanitarian missions, including Operation Christmas Drop, a longtime yuletide practice where aircrew drop supplies attached to parachutes to more than 50 islands in the South Pacific.
When he was transferred to Dyess Air Force Base near Abilene, Texas, he led a maintenance unit and went from supervising a team of only eight members to 220. During those 15 months he reflected on his future and decided he wanted to return to the Air Force Academy to teach. He earned his M.B.A. and was accepted to instruct at the Air Force Academy, where he was later selected to attend a doctoral program. "I love that the Air Force offers so many opportunities for its members both inside and outside the cockpit," Rybak says.
He chose marketing as a concentration.
As to where he would earn his Ph.D., Rybak reached out to the University of Arkansas and communicated with the then-Walton Marketing Ph.D. Coordinator Ronn Smith, who became marketing department chair in 2019. Smith's responsiveness and the college's willingness to work with Rybak and his unique circumstances impressed him. On his first day at Walton, he felt welcomed and amazed by the caliber of research produced by faculty. He says he has a strong interest in consumer well-being, health and nutrition, which aligns with the research background of Scot Burton, a marketing professor who has served as a special external consultant to the FDA's Risk Communications Advisory Committee. "I feel incredibly blessed to work with him," Rybak says.
Rybak says he hopes he can have the same influence on policy someday, though he also looks forward to becoming an effective professor in the classroom. His teaching experience at the Air Force Academy as an M.B.A. graduate has already been rewarding, especially from mentoring and establishing relationships with students, he says.
Having begun the doctoral program in August 2019, Rybak is still in awe.
"I pinch myself at least a couple times a day to make sure this is real," he says. "God has opened so many doors for me to be here today. I am thankful for the opportunity the Air Force and the Walton marketing department has given to me."