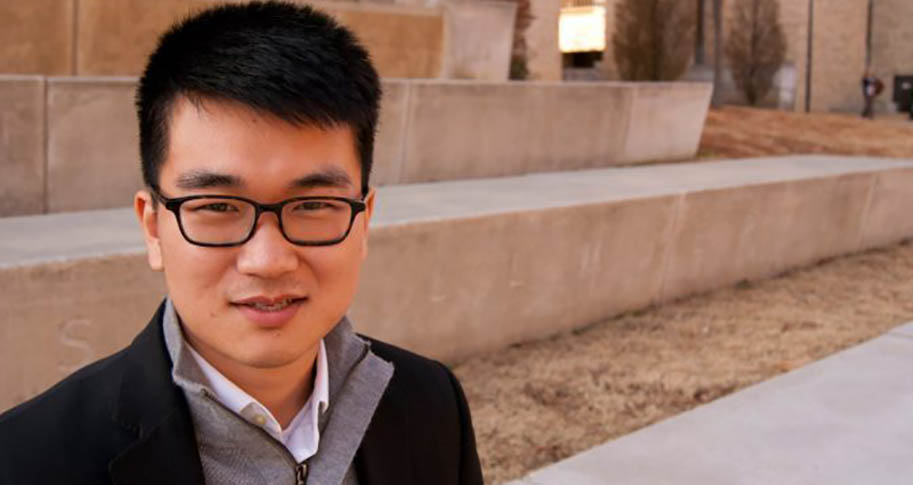 Hua Wang has experienced much in his five years in the United States. He has mastered the English language, played French horn with the University of Arkansas band and earned a bachelor's degree in accounting from the Sam M. Walton College of Business in addition to his music degree.
Now, as a Master of Information Systems student at the Walton College, Hua is working to make the university's student population more diverse. Hua is director of campus diversity for the UA Associated Student Government and was president of the collegiate chapter of the Chinese Students and Scholars Association.
Originally from Shanghai, China, he understands the challenges international students face when they first step on campus. For many, arriving to Northwest Arkansas alone can be confusing. How do you get to campus? Where is a good place to live? Hua is exploring ways to welcome these new students by meeting their immediate needs and questions when they arrive. One way is through the ASG Council of International Leadership, a program set to launch soon. "To get international students in the University of Arkansas is the ultimate goal," Hua says.
From there, he hopes these students will also become involved with the university's governing bodies. Hua says he plans for the ASG to begin presenting diversity events, such as panel discussions featuring representatives from different sectors ranging from businesses and nonprofits to civic organizations.
Hua's attraction to the University of Arkansas was a gradual process. He says the business schools in the United States have a positive reputation in his native country. A friend of his who was attending the University of Central Arkansas in Conway reported good things to him about the state. Inspired, Hua moved to Conway and enrolled at UCA to master his English-speaking skills. Through an adviser there, he learned he could continue his love of playing the French horn by majoring in music while working toward an accounting degree at the University of Arkansas.
"To get international students in the University of Arkansas is the ultimate goal."
He secured funding for his education through scholarships from Walton College's Department of Information Systems, Students of Retailing Excellence, Razorback Marching Band and the University of Arkansas Symphony Orchestra, he says.
Good with numbers, Hua says accounting seemed like a good degree to pursue, especially at Walton, where he is taking advantage of learning enterprise resource planning, which utilizes data from the college's business partners that helps with his decision-making in auditing and risk assurance. Following graduation, he hopes to become a CPA with one of the Big Four companies or a major corporation like Walmart. "I get the chance to work with very smart professors," he adds, singling out supply chain management instructor Carole Shook, ISYS clinical assistant professor Susan Bristow, ISYS executive in residence Jeff Mullins and Charles Robinson, the university's vice chancellor for diversity.
Hua says he's also impressed with the dedication of Walton College students. He recalls one wintry semester, when classes were canceled, walking 40 minutes in the snow to get to campus so he could better tackle his class assignments. When he arrived, there were students already there. "They're very hard working and they're very inspiring," he says.