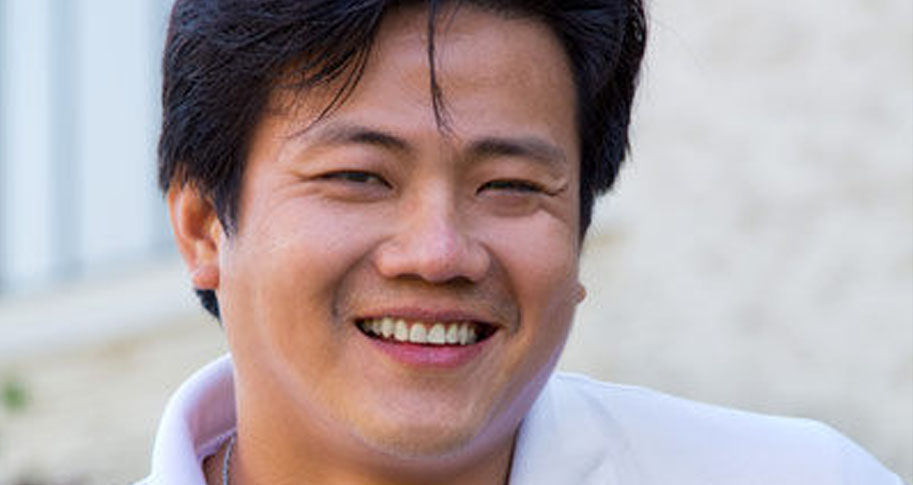 Jack Lim had never been to the United States, let alone Arkansas. But he remembers the exact time and day – 10 p.m., Dec. 31, 1998 – when he got off the plane at the Northwest Arkansas Regional Airport and was greeted by a student organization, which drove him to Fayetteville as he began a new chapter in his life.
This was not a visit. He had never laid eyes on Old Main. He had never called the Hogs. But when he learned that his college credits from his home country of Malaysia would transfer easier than to the other universities he applied. The University of Arkansas was the obvious choice, he says. Fayetteville was now home.
He enrolled at the Sam M. Walton College of Business where he majored in business management – a field where his father excelled, Jack says. He then became acquainted with the college's professors, who impressed him. He lived off campus, sharing space with Malaysian and non-Malaysian students as he got used to college life in Arkansas. And the language. He knew English, but Southern colloquialisms, like "y'all" for "you all," were confusing at first, he says. "It took me three months to get familiar with the English here," Jack says.
As he focused his studies on small business and entrepreneurship management, Jack received an internship with Chartwells, a division of Compass Group, a food service company that serves the world, including the University of Arkansas. He spent two years there as an undergraduate, where he was trained in management, cost control, scheduling and production. He says interning on campus with a globally recognized company connected him to the outside world without his ever having to step foot off university grounds.
When he graduated with a bachelor's degree in 2002, Chartwells offered him a full-time position. The employees there treated him like family, inviting him to special events, such as the American tradition known as Thanksgiving. "I've made a lot of long-term friends," he says.
Jack says that after working eight years at Chartwells, he decided to take on new challenges. He quit his job and returned to Walton College, this time to pursue an MBA with a career track in supply chain management while interning at the Kellogg Co. in Rogers. Internships have worked out well for him, he says. Jack was recently hired to work full time as a senior finance analyst where he manages budgets for the Kellogg sales office in Northwest Arkansas, which does business exclusively with Walmart, the world largest retailer. The latter part of this semester for Jack has meant going to class followed by long days at work, which will continue until he graduates in May. Yet, he says he can't think of a better place than Walton College to get his business training and networking opportunities. "It's a life-time experience," he says.
During all of this, Jack got married. He and his wife, Julina Yu, are expecting their first child in August. He also became a United States citizen. Though his days are spent working a full-time job while going to graduate school and preparing for a little one on the way, Jack shrugs off any notions that life may be a little crazy at the moment.
"It's a happy price to pay," he says. "I love the challenge."