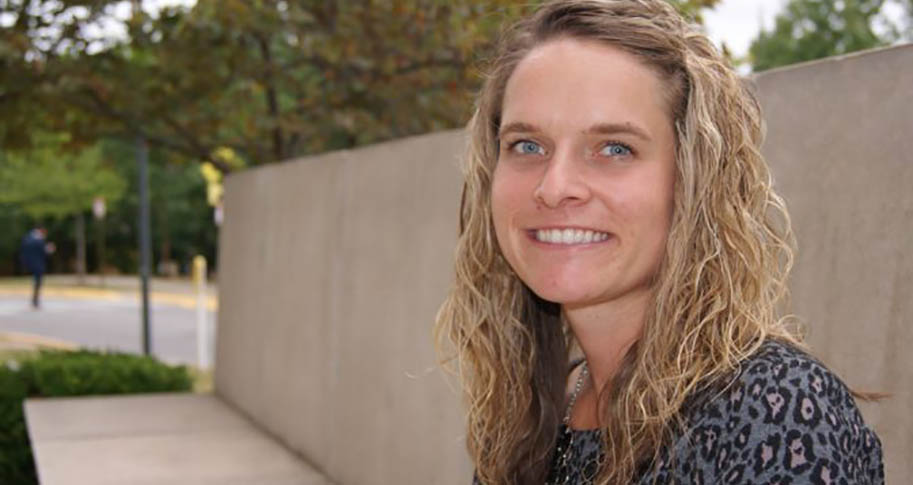 From the time she graduated from college, Jessica Salmon thought about how she could make a difference beyond the corporate world.
Salmon worked in management positions in the retail industry and learned much from them. She talks about her mentors and her former co-workers, with whom she remains in contact. "It's more about who you met and how they impacted you," she says.
Now it's her turn to pay it forward. Since July, Salmon has served as director for the Center for Retailing Excellence at the Walton College where she's connecting academia and industry. The center does this through various activities and programs, including hosting mentoring circles, working with student-led entrepreneurial organization Enactus and creating a gathering place where business leaders, faculty, staff and students exchange ideas. The center also works with the McMillon Innovation Studio, which helps students from across the University of Arkansas campus to create and learn to think innovatively. As a result, students get experiential learning before graduating.
Salmon says she's excited to be associated with Walton by leading the center's team and finds inspiration from Walton College Dean Matt Waller and Brent Williams, associate dean of Executive Education and Outreach.
"A lot of it was just the credibility they built in the community," she says. "I really wanted to be a part of that."
Before coming to Walton, Salmon worked for Walmart as director of Finance and Strategy for Walmart U.S. and, earlier, with Sam's Club, where she held positions with the Sam's innovations team and helped develop technology for consumers that included mobile apps for making purchases and front-end checkouts.
In 2016, Salmon, who was wanting "to push the envelope and create something new," earned her M.B.A. She found she had a passion for students and felt that both they and industry could learn from each other.
Salmon says technology is playing a large role in teaching the next generation, who are also concerned about staying true to who they are. "There's an intrinsic desire to do some better for society as a whole," Salmon says of the students.
As she helps match mentors with students, Salmon continues to seek out mentors of her own, such as marketing Associate Professor Molly Rapert, who has been a friend in getting her acquainted with the college. Others at Walton have also been supportive. "The faculty and staff, everyone is so open in sharing their passion and expertise," she says.
Salmon says she also appreciates that her Walton job enables her to balance her career and her role as a mother to a 2-year-old. In addition to being with her family, she enjoys running, working out and church activities.
And she's enjoying her new career.
"I have loved it," she says. "I have loved the opportunity to learn from a wide range of perspectives."