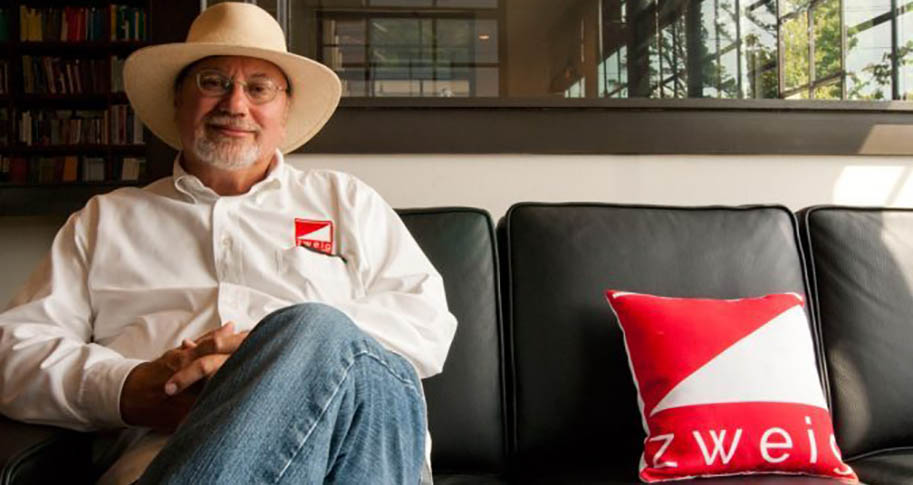 If you ask Mark Zweig to name former students who have successful businesses, be prepared to sit for a while.
They're on file on his smartphone, and he'll cite what makes each person unique. "When you see them be successful, it's very gratifying," Zweig says.
Zweig knows a little something about success. He's the founder of the development and construction firm Mark Zweig Inc. and the consulting, publishing and media business Zweig Group, both in Fayetteville and both having made the Inc. 5000 list for America's fastest growing privately-held companies. Yet, each school year, he divides time between his businesses and the Sam M. Walton College of Business to serve as an executive in residence in Walton's management department to teach undergraduate courses Entrepreneurship and New Venture Development and Small Enterprise Management.
From there, Zweig imparts his knowledge – the kind not typically found in textbooks, though he uses them – drawn from real world experiences.
"That's basically all I do," Zweig says. "You don't need me to spoon-feed the book."
He can rattle off the mistakes a lot of new entrepreneurs make, such as not reading business trade magazines like Inc., which focuses on growing companies; hiring people who are just like them instead of those with different skill sets; assuming they can work fewer hours as their own boss; thinking they are the boss when, really, the employees and customers are; buying into the media's unrealistic portrayal of entrepreneurs.
Or raising outside funding and, thus, losing ownership of not only the business but possibly the vision as well. Zweig encourages new entrepreneurs to raise the money themselves – he started Zweig Group with $1,000 of his own money and kept putting it back into the business. "It's the machine that feeds you," he says.
Then there are the things entrepreneurs should do, like responding promptly to email and spending enough money on marketing.
But the message he drives home – even to those who aren't his students but seek his advice – is simple. "The main thing you have to ask: Is this a thing you have a passion for?" he says.
If not, then they'll likely lose their motivation.
"It's always good to follow your passion," Zweig says. "It sounds cliché, but it's true."
He has explored many of his passions, ranging from owning a motorcycle shop (he's a vast collector along with vintage cars) to publishing to owning and investing in engineering and architecture firms. Signs bearing his name are displayed by his projects throughout Northwest Arkansas, whether it be the renovation of an old house or apartment complex or construction of apartments and condominiums – many of which have won awards. His projects have also been featured in Better Homes and Gardens and other publications.
Originally from Kirkwood, Missouri, Zweig earned bachelor's and master's degrees at Southern Illinois University at Carbondale. His first teaching experience was in the 1980s at a community college in Boston. He was later elected to his alma mater's business college's board of advisors and eventually named chairman. Through his advisory roles at Southern Illinois, he got to know Dan Worrell, Walton management professor and now dean emeritus. When Zweig told Worrell that he was selling his business and wanting to teach, Worrell suggested Zweig talk to Doyle Williams, Walton dean at the time. He did and was offered to teach entrepreneurial classes. "The opportunity to do that was so great, I didn't want to pass it up," he says.
For two semesters, Zweig flew from Boston to Northwest Arkansas once a week to teach before moving to the area in July 2005. It's one of the best decisions he's ever made.
"I like the way it feels being on campus," he says. "It keeps you young."
Zweig, who has also taught architecture classes at the university, finds the students energizing. He is particularly pleased that his entrepreneurial classes no longer have prerequisites for non-business students, whom he says brings creativity to the classes' business plans.
His students can also bring creativity to his businesses. Zweig has been known to hire a former student or two when he sees potential. Teaching is habit-forming.
"I plan to continue that until I drop," he says. "I love it and just want to continue to do it."