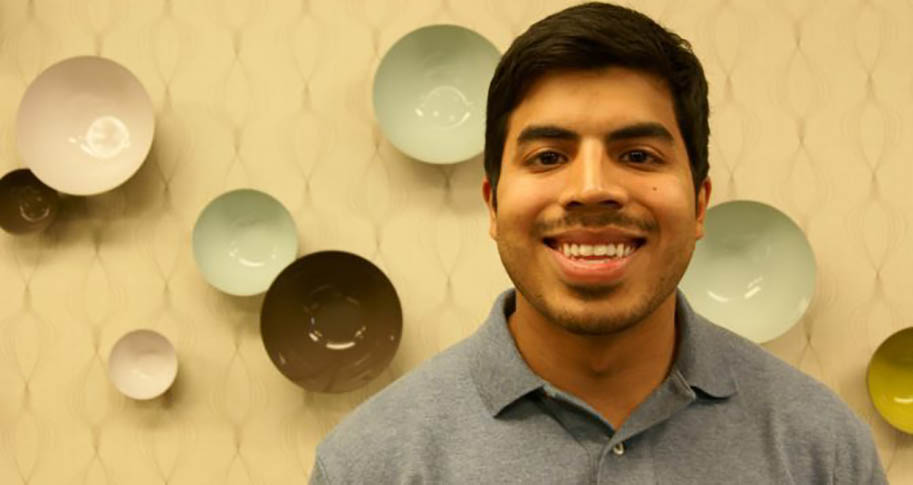 What if Taco Bell delivered? That was the question Omar Kasim asked himself over and over as he began planning his business.
Omar, a business management major from Tulsa, Okla., is entertaining the idea of opening a Mexican food delivery service.
Entrepreneurship is in his blood. His father owns several Tulsa establishments ranging from the food industry to contracting. "I have been around business my whole life," Omar says.
In high school, Omar began taking business seriously. He was president of school's DECA chapter, an organization that helps students prepare for the business world. It all came naturally. "In those classes, it seemed like everything was common sense for me," he says.
Omar shadowed his dad while he managed his businesses and knew that he wanted to do something different. "I really liked the idea of being my own boss," he says.
He looked to the University of Arkansas for direction. Omar enrolled in the Sam M. Walton College of Business without ever having visited Fayetteville. But any trepidation quickly vanished. "The first time I set foot on campus, I fell in love with it," he says.
After meeting with Renee Clay, assistant director of the George W. Edwards Jr. Career Center, he knew anything was possible. As a Walton College senior, Omar is a sports marketing intern for Razorback Athletics. He also tutors business law – sometimes addressing students in an auditorium – and has served as a student orientation member and a Walton College Ambassador. He was also past vice president of philanthropy for his fraternity, Sigma Phi Epsilon, and is a Walton senator for the University of Arkansas Associated Student Government. Omar also will study abroad in Brazil.
With both a Silas Hunt Distinguished Scholarship and a Donald D. White Endowed Scholarship in Management, Omar is eager to get his bachelor's degree early so he can focus on his business and use University of Arkansas students as a test market.
From his research, Omar has learned college students prefer to have food delivered rather than to venture out in their cars, which can sometimes be parked blocks away from their dormitories. Yet when it comes to delivered food, the menu options are expensive and often limited – typically pizza or deli sandwiches. As he surveyed students, he found a large number had penchants for Mexican food. That's when Omar wondered what it would be like if Taco Bell, a popular, affordable fast-food restaurant, delivered. In his feedback from students, he learned they wanted healthy options as well. As a result, he's exploring a delivery service that provides healthy Mexican food items along with more indulgent selections.
But a successful food delivery business isn't the only thing on Omar's mind. He's also considering enrolling in law school – something that will enhance his business degree. "I'm really glad I'm able to do everything I came for at the Walton College," he says.