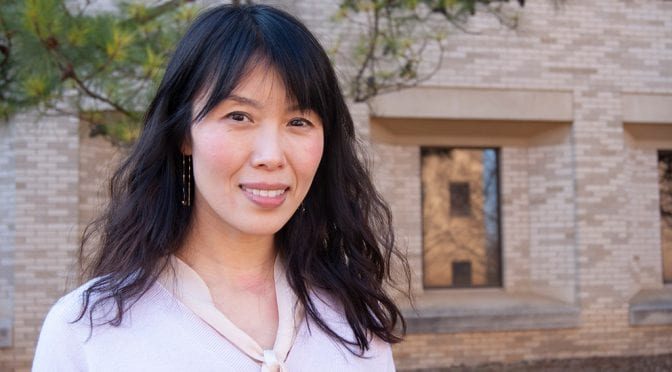 Data. Businesses love it, and students want to learn all they can.
When Qin Weng taught business analytics last fall, she discovered that her classes consisted of students with a wide variety of majors who were eager to learn how to interpret data to get meaningful information. "Companies are looking for these skills to better utilize their data," says Weng, who joined the Walton College as an information systems assistant professor last August.
And exploring data can be fun. In her classes, Weng asks her students to look at all kinds of topics that utilize data. They returned with a variety of ideas that included examining students' drinking habits and their academic performances to predicting the winners of athletic events.
The discovery element keeps things interesting. "It's like fishing for something you don't know," she says.
During her first semester at Walton, Weng taught Business Analytics and Visualization to undergraduates and Data Analytics Fundamentals to graduate students. She says her classes are tough by design, and she finds that when she challenges her students, they deliver. "It's really mind-blowing at the end of the semester when they present their ideas," she says.
Weng grew up in the Jiangsu Province in east China, north of Shanghai, and earned a degree in international business studies at Beijing Foreign Studies University. She became fascinated with software programs used for data analysis, such as Excel and SPSS. These programs enabled her to collect data and, more importantly, gain insightful findings.
She came to the United States to further her education and earned her master's degree at Virginia Commonwealth University. Following graduation, Weng worked for an insurance company in various roles, including as a business analyst, serving as a liaison between business divisions and the technology department. She created applications that helped data flow more efficiently between the company and government agencies, such as Medicare and Medicaid. Weng also facilitated data-filled reports to help company managers in their decision-making.
In her several years working in the healthcare industry, she saw a continued divide between business and technology. She wanted to bridge those gaps. She also missed graduate school and research. Weng was accepted to the doctorate program at the University of Pittsburgh, where she had the opportunity to work on a large-scale, government-funded project to build digital infrastructure to enable transformative scientific research through the Global Environment for Networking Innovation (GENI). Through the project, she researched different topics, including the control methods in project management and the collaboration networks among project participants. Her research has been published in Information Systems Research.
Weng earned her Ph.D. and came to Walton, a place that captured her attention with the school's scholars, whom she also found to be friendly. It's a good fit. "This is one of the most amazing places I have ever been," she says.
She also enjoys the Women of Walton gatherings, which made her feel proud to be among the female faculty at the college. She says she found Anne O'Leary-Kelly, organizer and Walton senior associate dean, to be caring in her mission to boost morale and build relationships among faculty and staff.
Weng is using that energy in her research as well as to inspire students.
"I hope my teaching can spark their interest in business analytics," Weng says.