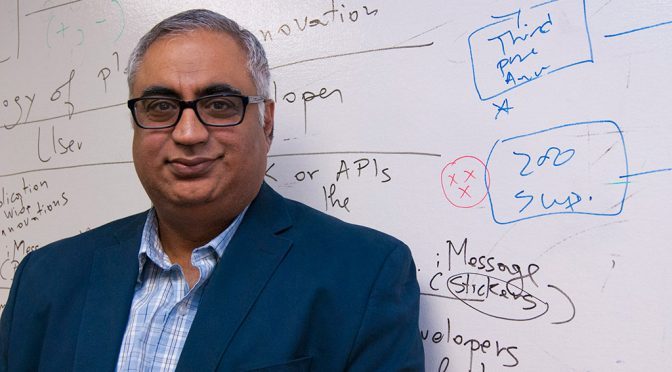 The journey may seem the same: Ph.D. student starts their first year. They grow and, hopefully, write papers that get published. Then comes graduation and, if all goes well, they get an assistant professorship at a university.
It's a rite of passage that Varun Grover gladly assists in year after year. "I love seeing doctoral students grow from their raw state to really 'getting it,'" he says.
He also enjoys watching their successes beyond graduation. A few years ago, Grover attended a doctoral consortium that included a round table session. Three of the students at Grover's table introduced themselves as having deans of their respective colleges who were formerly his students. Naturally, Grover was proud. But another realization set in. "Wow, I'm really old," he says, laughing.
Grover has experience creating doctoral programs, which he did at other universities before coming to the Walton College in the summer of 2017. He is also consistently among the world's Top 5 researchers in the field of information systems, as ranked by a system devised by the University of Arizona, as well as numerous other studies, and has authored a lengthy list of articles in top-tier journals. For many professors, it would be a sign of a job well done and a reason to start thinking about retirement.
Not Grover. He and his wife wanted to relocate "one more time," and the Walton College beckoned.
As Walton's David D. Glass Endowed Chair, he is a distinguished professor with the Department of Information Systems, which has produced a healthy roster of graduates who have gone on to rewarding careers. "For once, I didn't have to build a Ph.D. program," he says.
In addition to working with doctoral students, he also teaches Enterprise Systems, a master's level course.
Grover was born in India but spent his first eight years in Liverpool, England, while his father studied ophthalmology. The family returned to India, where Grover attended school in New Delhi and considered going into the medical profession like his father. However, the self-described "techie at heart" enrolled at the Indian Institute of Technology, studying electrical engineering and computer science. There, he wrote programs by using what was the norm then: a video monitor hooked up to a large, mainframe computer.
Wanting to expand his horizons, Grover moved to the United States, where he earned a master's degree at Southern Illinois University followed by a Ph.D. at the University of Pittsburgh. Before coming to Walton, he held professorships at the University of South Carolina and Clemson University.
The word "outstanding" is one he uses repeatedly when describing both Northwest Arkansas and Walton – he had good impressions of Walton long before his first visit.
Grover's research has been published in 250 refereed journals, giving him the distinction of being one the most published researchers in information systems. He is also a fellow of the Association for Information Systems, an honor that also includes information systems professors Rajiv Sabherwal, who is department chair, and Viswanath Venkatesh. Grover is senior editor for MIS Quarterly Executive and for the Journal of the Association for Information Systems. He is also senior editor, emeritus, for MIS Quarterly, the Journal of the Association for Information Systems, The Data Base for Advances in Information Systems as well as associate or advisory editor for at least a dozen others.
Though technology has rapidly changed in the past 30 years, Grover says he and his cohorts' research goals remain the same. "We would like to create knowledge that transcends technology," he says.
For Grover, that includes recognizing when digitization may not be the best fit for a business. For example, instead of using representatives to assist customers, a store may utilize a computerized self-checkout lane, which could drive away potential customers, he says. Some may feel more comfortable with human interactions. Others may be unschooled in digital technology, especially older people.
Another example is the dot-com bubble, which took place in the late 1990s and early 2000s. There was a saturation of internet-based companies taking advantage of the fast-evolving technology, which resulted in a crash that caused many companies to suffer deep losses if not shut down altogether.
"The point is really simple," he says. "Digitization isn't always good for all companies all of the time – the challenge is to figure out when and how."
Much of Grover's work focuses on how companies can leverage digitalization for success. He also examines digital culture and identity, including how one's smartphone and other devices can create stress for the user.
When he's away from work, Grover says he enjoys soaking in what Northwest Arkansas has to offer. He plays tennis and he and his wife enjoy the arts, especially theater. They already have a membership to TheatreSquared.
Naturally, he loves gadgets – especially those that integrate television. It's a topic that's on the minds of many these days.
It's all part of living in, and exploring, a technological world.
"You never run out of interesting things to talk about and do," he says.