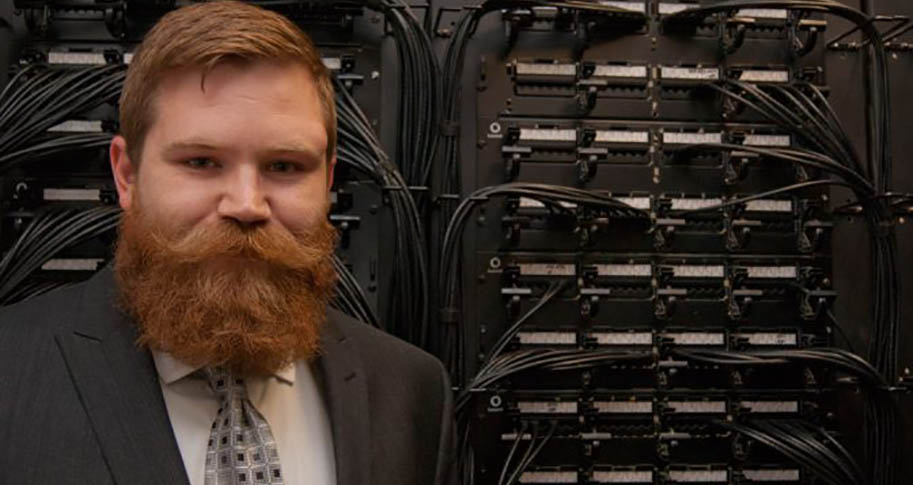 Blockchain technology is like rocket fuel for Zach Steelman.
It's the way of the future. It has the potential to shake things up just as much as the Dot-Com Boom did in the 1990s. Students are eager to learn more, and Steelman's eager to accommodate. He loves talking about it.
Steelman brought his knowledge to the Sam M. Walton College of Business in June when he joined Department of Information Systems as assistant professor. "I've been neck deep in blockchain stuff ever since," he says.
Blockchain involves encrypted sets of transactions in which an accounting ledger of verified events are distributed across multiple networked computer systems producing a block of data. When something suspicious has taken place, it's flagged by every computer on the chain, preventing the suspicious transaction from taking place. This technology reduces cost by leaving out the need for an intermediary, or a "middleman," to process the transaction, Steelman says. It can also reduce fraud. The most well-known product to use blockchain technology is the cryptocurrency Bitcoin.
Major companies, such as IBM, are embracing this technology, while Bentonville-based Walmart and other companies are exploring its benefits in revamping data management.
This enthusiasm has spread to Walton students. Steelman, along with information systems faculty, presented a blockchain "hackathon" (no actual malicious computer manipulation usually associated with "hacking" takes place at a hackathon) for University of Arkansas students to test the technology's limits. Held at the Brewer Family Entrepreneurship Hub just west of the downtown Fayetteville Square, the students were so excited, they arrived early and stayed after hours to work on their projects, Steelman says.
Students' enthusiasm also extends into the classroom. The department is one very few, if any, at public universities to offer blockchain technology in its curriculum, Steelman says. "You can see the sparkle in their eyes when they talk about it," he says.
Steelman grew up in Heavener, Oklahoma, and earned his undergraduate degree in information systems as Northeastern State University at nearby Tahlequah. If Steelman looks a little familiar, it's because he earned his master's degree and Ph.D. at Walton. He teaches graduate courses E Business Development and Analytics and Enterprise Data.
Steelman enjoys reconnecting with the faculty, whom he says are "the best researchers in the world."
Naturally, Steelman's research includes different aspects of blockchain technology, but his other interests include information technology investment and strategy. He is also researching what he calls the "dark side" of information technology, such as the impacts of technology addictions like texting while driving, for example.
Steelman says he's also pleased to see that Walton's focus on entrepreneurship has "exploded" with the McMillon Innovation Studio and Brewer Family Entrepreneurship Hub, for example. "I have always had an entrepreneurial spirit," he says.
That spirit has extended to his business and pastime, Steelman's Vintage Rides, where he restores old cars and motorcycles ranging from a 1966 Plymouth Fury III to what he calls his "drag car," a 1979 Toyota Corolla. "My car looks like I pulled it out of the pasture," he says.
Not only does he refer to his hobby as "therapy," he often finds that his cars are good "ice breakers" as people from all walks of life have connections with their motorized vehicles.
Though Steelman earned his Ph.D. at Walton, he never strayed far. As a doctoral student, he bought a house in Siloam Springs, about 30 miles northwest of Fayetteville. Even after graduating and joining the faculty at Oklahoma State University in Stillwater, he kept his Siloam Springs home as he didn't want to leave Northwest Arkansas. Returning to work at Walton was a natural thing to do.
"It's wonderful here," he says. "It feels like home."