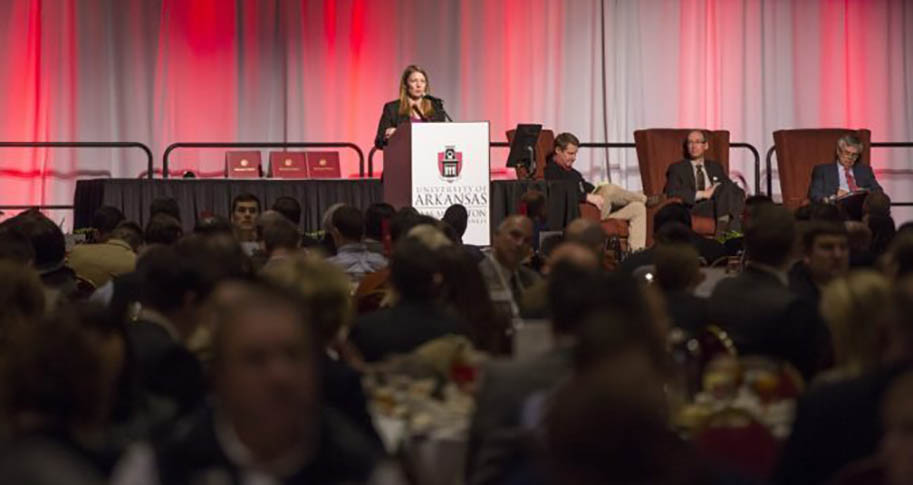 Regional, national and international experts will discuss the economic outlook for Arkansas, the nation and the world at the 22nd annual Business Forecast luncheon.
The event, coordinated by the Center for Business and Economic Research at the Sam M. Walton College of Business at the University of Arkansas, will be held from 11:30 a.m. to 1:30 p.m. Friday, Jan. 29, at the John Q. Hammons Convention Center in the World Trade Center District in Rogers.
The panelists are:


Moderator: Bill Dillard III, vice president, Dillard's Inc.


International Speaker: Michael Drury, chief economist, McVean Trading & Investments LLC


Domestic Speaker: Kevin Kliesen, business economist, Federal Reserve Bank of St. Louis


Regional Speaker: Kathy Deck, director, Center for Business and Economic Research


"The Business Forecast luncheon is our premier networking event for business and community leaders from Northwest Arkansas, the state and the region," Walton College interim Dean Matt Waller said. "The forecasters provide the attendees with insights that they can use to anticipate economic challenges and opportunities over the coming year."
"For the 22nd consecutive year, the Business Forecast luncheon is bringing in the best economists to Northwest Arkansas to present their insights about the economy in the coming year," Deck said. "We are excited to bring such highly regarded experts to Northwest Arkansas who can provide insights, data and analysis. We know that many of the leaders who attend the Business Forecast luncheon use the presented statistics to make their organizations stronger."
Registration forms are being mailed this week. For more information on sponsorships or reservations for Business Forecast 2016, contact the Center for Business and Economic Research, Sam M. Walton College of Business, Willard J. Walker Hall 538, 1 University of Arkansas, Fayetteville, AR 72701, 479-575-4151, fax 479-575-7687, or e-mail: cber@walton.uark.edu. To register online, visit the Business Forecast website.
Read the entire article at Arkansas Newswire