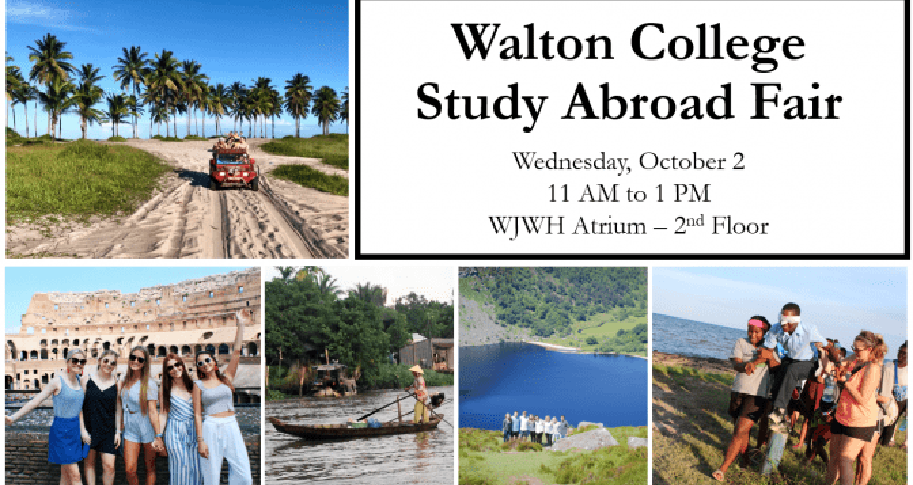 Interested in studying abroad? Learn more by attending the Walton College Study Abroad Fair on Wednesday, Oct. 2, 11 a.m.-1 p.m. in the WJWH atrium.


Build your resume.


A study abroad experience tells employers that you have the skills they want – flexibility, language and a global perspective.
Kate Barger, a May 2019 graduate in supply chain and finance double major, participated in the Walton College faculty-led international business seminar in India study abroad program during the summer of 2017 and believes all study abroad experiences are impactful on a resume.
"Having a study abroad program on your resume invokes interest from companies on two levels. The first is when company recruiters initially see study abroad on your resume; without having to ask any questions, they know that you are open to new challenges and experiences and are capable of working with people from different backgrounds and cultures," Barger said. "The second level is during an interview: your study abroad experience will give you material to answer questions about problem solving, teamwork and many other critical skills employers are looking for."


Gain important business and cultural perspectives.


Business is global. Companies are impressed when students can articulate the differences between how business is done in America and how it might be done in other counties.
"Before studying in Brazil, I was most certainly unaware of how difficult conducting business might be in other parts of the world," David Brown, a marketing major, said. "Firsthand, I saw a vast array of complex business challenges and the determined population willing to meet those challenges daily. Being able to discuss elements of Brazilian business and culture with a potential employer makes me a more rounded candidate and will very likely aid my decision making in future positions."


Earn college credit while having an international experience.


For many programs – especially the Walton College faculty-led study abroad programs – the learning takes place outside of a classroom with visits to businesses, meetings with companies and guest speakers and hands-on projects.
William Larue, a management major, studied in the Global Community Development in Vietnam program. "My favorite part about the Vietnam trip was the non-traditional education I experienced. Instead of sitting in a classroom, we were out in the field helping people and applying not only formal education, but creative problem solving," Larue said. "I made relationships along the way that don't happen in a classroom – with Vietnamese people, and other University of Arkansas students and faculty."


Have once in a lifetime experiences.


Evann Ogburn, a recent international business graduate, spent her spring 2018 semester studying abroad in Spain. Because of her proximity to England, Ogburn was able to attend – and even get a front row seat to –Harry and Meghan's royal wedding.
"Getting to go to the royal wedding is something I'll talk about for the rest of my life. The way it brought people together from all over the world was so refreshing," Ogburn said. "It was fun to all have something in common for the time being. I even got to talk to an older British woman who went to Princess Diana's wedding, William's and Harry's."


Why not?


Don't have the time to study abroad? Programs range from 10 days during an intersession all the way to a full semester or year. Regardless of other obligations you may have, study abroad can fit into your schedule.
Worried about traveling to another country? There are a variety of program types that can match your comfort level. Walton College has several faculty-led programs where you travel with a Walton faculty member and a group of U of A students. If you are looking for a more independent experience, there are exchange programs where you can live like a local.
Don't want to empty your bank account? Scholarships and grants are available to help you make the experience affordable.
Interested in studying abroad? Learn more by attending the Walton College Study Abroad Fair on Wednesday, Oct. 2, 11 a.m.-1 p.m. in the WJWH atrium.