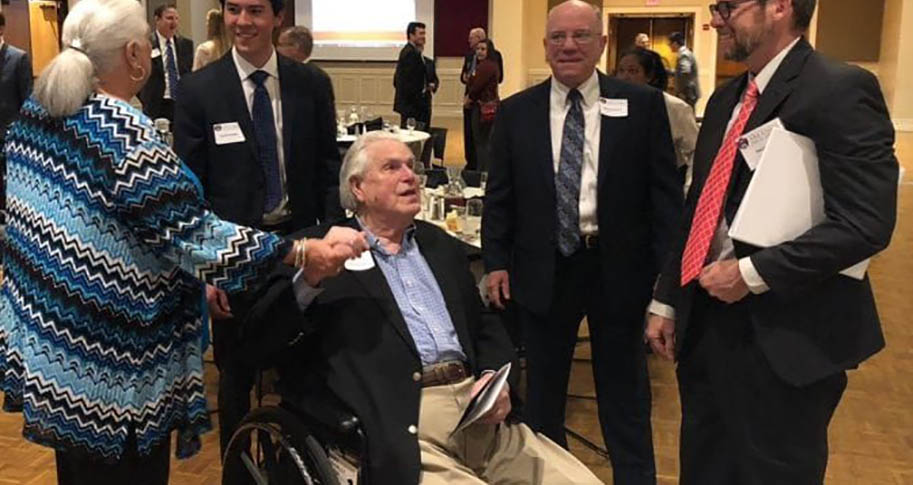 James P. Modisette, former chair of the accounting department who had a 33-year career at the University of Arkansas, died Tuesday, Nov. 3, in Fayetteville. He was 88.
"Dr. Modisette's 33 years of service to the university instrumentally impacted the accounting profession in Arkansas," said Gary Peters, chair of the William Dillard Department of Accounting at the Sam M. Walton College of Business at the U of A. "His tenure with the university is an example of the impact that the university has on the Arkansas community."
Modisette joined the accounting department in 1963 as an assistant professor. He succeeded Nolan Williams as department head in 1971 and served until 1985. Under Modisette's leadership, the department instituted many professional activities, such as conducting professional development courses in Arkansas and throughout the nation in both public and private accounting and holding a review program for the CPA examination.
He established the master's degree program in accounting to meet the growing demands of professional practice, and in 1985, the department's undergraduate and master's programs became the first accounting programs in the state of Arkansas to be accredited by AACSB.
He retired in 1996. An announcement of his retirement in the accounting department newsletter at the time noted: "His memory still astounds students and alumni (he can usually tell you not only when you were in his class, but where you sat!) and his 'sayings' are legendary."
The James P. Modisette Endowed Scholarship Fund awards a scholarship each year to support an outstanding accounting student entering the senior year at the Walton College.
According to his obituary, Modisette was the youngest of four children of the late Clarence and Lillie McCall Modisette. He was born Dec. 6, 1931, in south Arkansas and attended Mt. Holly public schools as well as Green's Business School in El Dorado.
He worked as an office manager on construction jobs in Arkansas and Louisiana and served in the United State Army. He attended Southern Arkansas University, the University of Mississippi and Louisiana State University where he taught part time while earning a Ph.D. in accounting.
Omicron Delta Kappa, the National Leadership Honor Society, recognized him with the Outstanding Teaching Award, and he received the Outstanding Advising Award from the College of Business Administration. Beta Alpha Psi, the international organization for financial information students and professionals, gave him the Outstanding Faculty Award, and he was an active member of Beta Gamma Sigma, which honors academic achievement in the study of business. The Arkansas Society of CPAs recognized him for the many years he spent teaching courses in continuing professional education.
His obituary said, "Based on his tutelage of so many business leaders, it has been said that James Modisette may have had as much influence over Arkansas CEOs and executives as anyone in the state's history."
Jim is survived by his wife, Diane, of 56 years; two children: Amy Weyman (Scott) of Evanston, Illinois, and Mark Modisette (Debra) of Fayetteville; and three grandchildren: Jackson, and twins Eliza and Ben Weyman also of Evanston.
A private service was held on Monday, Nov. 9. Memorials may be made to Central United Methodist Church, P.O. Box 1106, Fayetteville, Arkansas, 72702.