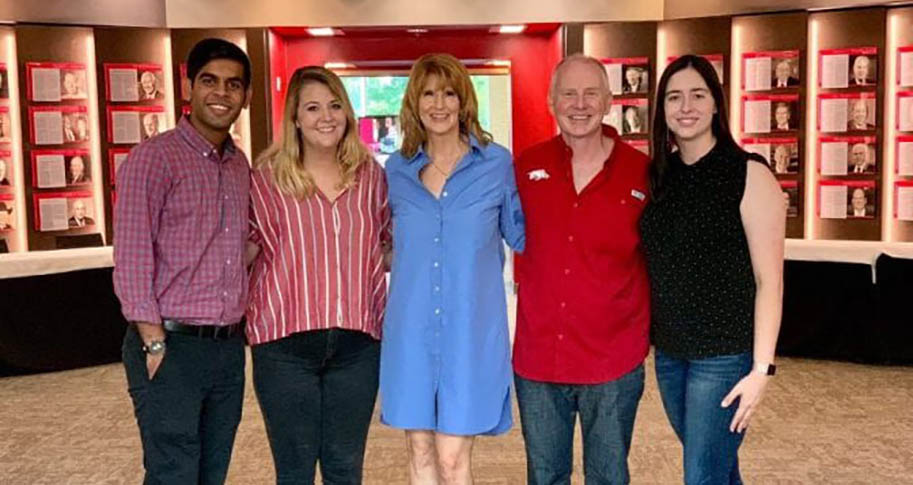 Passion for accounting. Passion for a healthier world. And passion for her alma mater.
Those passions have carried her to the top of her field. From her office in Dallas, she serves today as the US and Global Health Industries leader for PwC, the global accounting powerhouse that serves nearly every segment of business.
She is the first to tell you that hers is a tale of how sometimes you come to your passion by accident.
"I think the story about how I came into healthcare is pretty interesting because it was a mistake," Kelly said.
When she started at PwC—where she has spent her entire career—there were 32 people in her audit group, including another young woman named Kellie. "The other Kellie wanted to do healthcare. I wanted to do another industry—financial services—but they crossed us on the schedule," she said.
"We were young. We certainly didn't want to push against leadership and say that they had messed up, so I took the healthcare schedule and I became excited and intrigued about what we could do in that industry. I've been with it ever since. Over 30 years. It's a great passion of mine."
That comes through in a document published each year, PwC Health Research Institutes' annual report. The report on the top health industry issues of 2018 is peppered with phrases such as "a year for resilience amid uncertainty" and words like "volatile" and "disruption."
In the present regulatory and legislative atmosphere in Washington, D.C., and the states, you can see why those words would be there.
But after encountering Kelly and hearing her passion for paying her success forward into the future, you can imagine her having a lot of influence over the hopeful, resilient tone of this telling sentence from that report: "In the face of an unsettled environment, the health industry could come out the other side of 2018 stronger and more creative, helping solve some of the nation's most pressing health issues and becoming more engaged with their patients and consumers than before."
Watch this video about Kelly's passion for the University of Arkansas
Engaged
Like passion, engaged is a word that swirls around Kelly. That's something she gets from her family. She grew up one of five daughters, a self-described Navy brat who constantly moved from place to place.
"We moved," Kelly said. "We moved every two to three years, which meant I had to learn how to make friends quickly and create new networks."
"I think that's been a huge benefit to me in PwC and my career," she said. "I try to create great networks of colleagues and friends and bring those networks together for impact. I think it also teaches us that change is exciting and change is a good thing, and I've seen that permeate my whole career."
"I love change," Kelly said. "I love to take on new things to innovate. And, candidly, I'm always ready for the next challenge that presents itself."
When she was 13, her father retired to Arkansas. In high school, Kelly began considering colleges—places such as Georgetown or the University of Virginia. Her ever-practical father gave her a choice. "His response was, 'Any state school you want, sweetheart.'"
Kelly chose Fayetteville.
"I'm a card-carrying Razorback," she said. "I'm a big fan of the University of Arkansas. I received a fantastic education in a university that was large in scale, but personal and pays attention to its students."
Kelly was a student in the College of Business, what would later become the Sam M. Walton College of Business. But her education at the U of A extended far beyond the walls of the business building.
"I didn't just have an affinity for folks in the business college, but in law school and in the history department," she said.
"You really begin to fully appreciate that you have to know different people, understand different perspectives and engage with people around your points of view.
"Because when you sit with a client, if you listen to them, and you understand they're coming from a different background or a different place than you are, then you create a space where you can have a really powerful dialogue. You understand the issue from their point of view, which allows me to bring a much stronger solution to them."
"It's the power of different points of view, which I gained through my interactions with people within the college of business and outside the college of business," she said.
Innovative
Innovation permeates health and well-being today, but the intersection of the clinical changes that are coming and the impact on companies and consumers is what intrigues Kelly.
"I think innovation around things like wearable devices are beginning to engage the consumer not as a patient in their sick care, but as a patient in their well care," she said.
"I am an accountant," she said. "I still have my CPA. That was my first passion. What joining a firm like PwC brought to me, though, was how to apply that background in accounting to a new passion that I discovered—healthcare."
She said that engagement around health has made her look at the university in a different light. "I see that the University of Arkansas has a tremendous medical school, they have a nursing program, and I see so much more the convergence of how business affects health industries today.
"So that's where I really began to connect this passion around education and what it can do to an industry that I have found a great passion for."
Aligned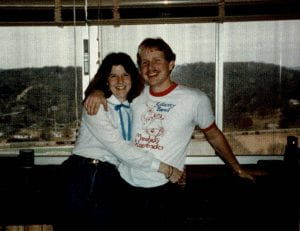 She met her husband Steve in their college algebra class on the Fayetteville campus their freshman year. They both had graduated from high school in Hot Springs, but from different schools. It was up to Kelly's best friend from high school to introduce them. In a stuffy, non-air-conditioned classroom in Carnall Hall.
Steve also graduated from the U of A with a business degree but found that he also had a passion for healthcare. He went back to school and earned a bachelor's degree in nursing from Texas Woman's University and worked as a registered nurse for Parkland Hospital in Dallas for more than 20 years.
"I will tell you, Steve is my favorite person in the world," Kelly said. "And our interests align, because we share a set of values that are focused on giving back."
"He's my moral compass," she said. "Every time I come up with a great idea about what we can do for healthcare, he brings me back to the reality of what it means to deliver every day."
Their interests also align around giving back to the University of Arkansas. In 2018, the couple set up the Kelly and Steve Barnes Health and Wellbeing Innovation Fund to promote collaboration between healthcare and business through the Walton College.
"For Steve and I, as we have been spending more time at the university, and especially with Matt Waller and the group at the business college, what really struck us was the intersection of the entrepreneurship and innovation that the college supports with the mission of the University of Arkansas to the citizens of it state," she said.
When she looked at Arkansas, what she saw was really poor health outcomes for its citizens. "We began to wonder, if we helped create an innovation fund that brought together the health assets of the university with the business thinking that's sitting in the Walton College, could we come up with ways to create better healthcare in the state of Arkansas?"
It wasn't the first time the couple had helped the college. They also endowed a scholarship for Ph.D. accounting students that has helped promising students become great teachers and researchers.
"I think once you enable someone through a scholarship, you're immediately creating an impact," Kelly said. "You think of that image of a stone dropping in a pond and the ripple effect."
"They're pushing it, advancing their thoughts on accounting, creating research and background information that will affect our clients and the future," she said.
Kelly's career is filled with awards and accolades. She was named one of the Most Powerful Women in Healthcare IT for 2017 by Health Data Management. She has been named one of the top 500 business leaders in Dallas. She is the leader of US and Global Health Industries practices for PwC where she oversees services across all health-related industries, including assurance, tax and advisory lines of services in the payer, provider, pharmaceutical and life sciences practices. The PwC website says: Kelly also leads initiatives and points of view regarding public and private collaboration to create greater value in the health system and help shape the dialogue around health reform.
She is a nationally recognized speaker and has served on the Principles and Practice Board of the Healthcare Financial Management Association. She is a member of the International Women's Forum (IWF) and is involved with Leadership Dallas and the American Diabetes Association.
"All of these are tremendous honors," she said. "I hope people see they are a byproduct of when you really do something that you have an immense passion for, it leads you down great paths you never anticipate."
One of those paths is serving on the Walton College Dean's Executive Advisory Board.
"I never thought when I was a student here, that I might have the opportunity to shape the direction of the very institution that helped shape me," Kelly said.
"I think the entire board is energized around the idea of how do we shape innovation in thinking that connects the various elements of the Walton College. It's not just accounting. It's finance. It's economics. It's marketing.
"How do we begin to create the connections and those programs that create students that are able to go out in the world and take on new careers. It's a new digital economy. The fourth industrial revolution. How do you pattern education to create individuals who are ready to thrive in that environment?"