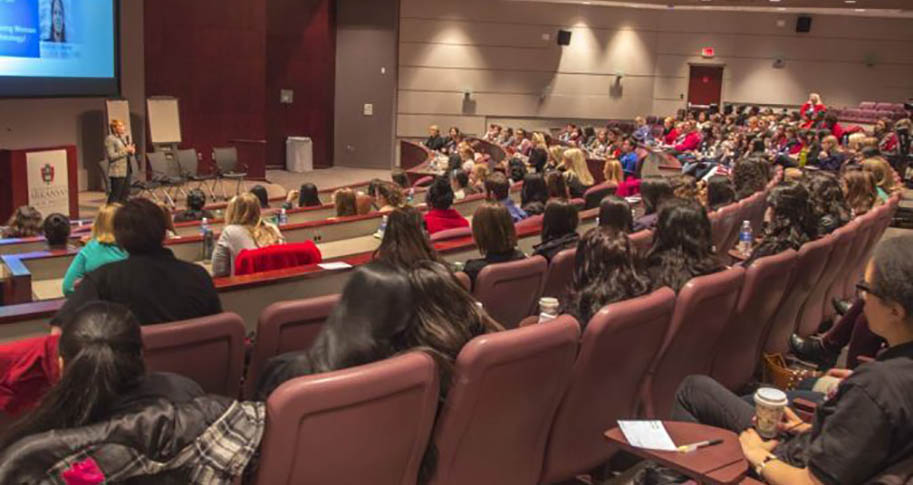 More than 100 young women in high school and junior high school networked with professional women currently working in the field of information technology during the 2nd annual Girls in IT event to learn about industry careers, courses, and needed skills. This daylong affair was held at the Sam M. Walton College of Business on Wednesday, Nov. 19. Schools from Fayetteville, Springdale, Rogers, Bentonville, Prairie Grove, and even as far away as Pine Bluff, participated. The day was filled with a mix of activities, all geared toward encouraging young women to consider information technology as a field of study and a career.
Amy Robinson, of the Amy Reeves Robinson consulting group, moderated a panel discussion comprised of Brenda Deal, Keva DeJarnett, as well as two recent University of Arkansas information systems graduates, Stephany Beltran and Kelsey Brown. Each panelist currently works for Walmart Stores, Inc. in the Information Service Division. They answered questions from students related to the work culture, skills needed, potential earnings and other inquiries related the IT field. In addition to encouraging young women to consider the industry, panelists also discussed items such as appropriate business attire, learning styles, teamwork, presentations, college courses and creating an individual career path.
"Everyone brings a different perspective based on their background and education," Deal said.
Attendees were broken up into small groups where they where assigned a team project related to IT security. The results of the project touched on a number of different areas: tracking online shopping for advertisements, privacy policies for online sites, policies regarding the review of college applicants' or job applicants' social media sites, cyber bullying and the perceptions developed from online posts. Walton information systems professors Susan Bristow and Christina Serrano introduced and managed the team activities and presentations.
Also speaking at the event were Kristen Williams, Ivette Alegria and Monica Kelly, each from Walmart ISD. Sarah Daigle from Currant Technology Group presented a session on educational technology. Autumn Parker, the Sam M. Walton Colleges' associate director for undergraduate recruitment, opened and closed the event.
The Information Technology Research Institute at the University of Arkansas hosted the event, which was sponsored by Walmart Stores, Inc. Last year, the event was sponsored by and held at J. B. Hunt Transport Service Corporate Offices.
"Everyone was engaged, had fun and hopefully learned a lot," said Eric Bradford, managing director for the Information Technology Research Institute. "We hope to show these young women the opportunities the IT field offers."