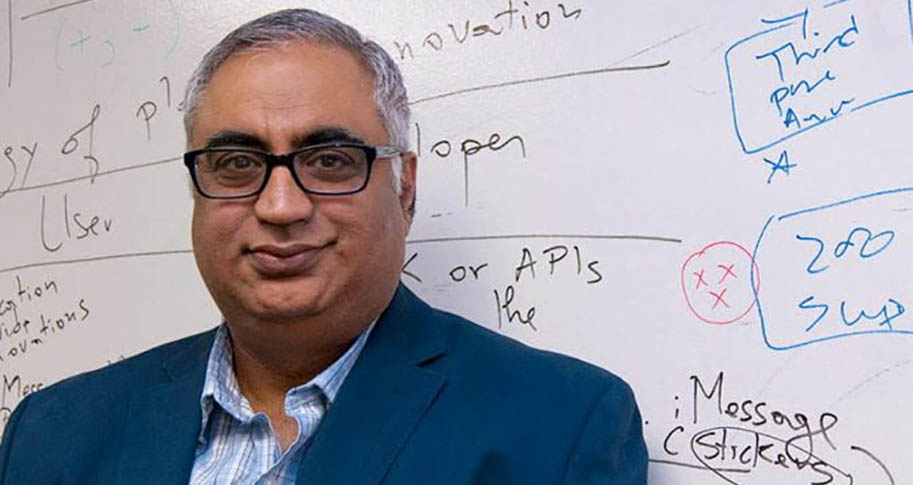 The Association for Information Systems, an international organization with about 5,000 members, that advances the knowledge and practice of information systems, recognized Varun at the International Conference on Information Systems. The LEO Award is given to scholars who have made a global impact in the information systems field, serve as a role model and exhibit exemplary professional and personal integrity.
"We are so very fortunate to have Varun in Walton College," said Rajiv Sabherwal, distinguished professor, Edwin & Karlee Bradberry Chair, and chair of the Department of Information Systems in Walton College. "Varun plays a tremendous role in mentoring junior faculty and doctoral students, and is a prolific author in the very best peer-reviewed papers in information systems and beyond. The quality of his work is also evident in how frequently it is cited by other authors. The prestigious LEO Award is an appropriate recognition of Varun's significant impact on the field of information systems."
More than ten recent articles have ranked Grover among the top four researchers globally based on number of publications in the top information systems journals, as well as citation impact. Thompson Reuters recognized him as one of 100 Highly Cited Scholars Globally in business disciplines. He is senior editor for MISQ Executive, editor of the Journal of the Association for Information Systems Section on Path Breaking Research, and has served as senior editor for MIS Quarterly, the Journal of the AIS, and Database.
Grover earned a Ph.D. and master's of information systems from University of Pittsburgh. He also received a MBA from Southern Illinois University and a bachelor's degree in electrical engineering from the Indian Institute of Technology.
The LEO Award was established in 1999 by the Association for Information Systems and was named in honor of world's first business application of computing (The Lyons Electronic Office) to honor a scholar's contribution to the information systems field throughout his or her career. The Association for Information Systems, the leading professional association for information systems researchers, teachers and professionals, has members from more than 100 countries worldwide.