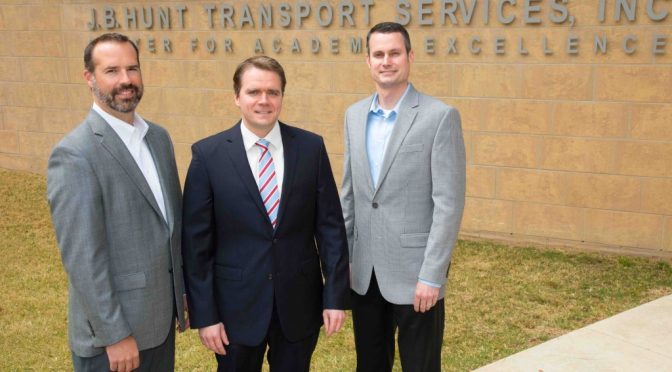 Stobaugh received a B.S. in computer system engineering from the University of Arkansas in 2000 and was recognized with an early career award from the College of Engineering in 2015. He earned an M.B.A. from Walton College in 2010. He is currently responsible for the development of the company's external web and ecommerce solutions.
"Dr. Hoehle has tremendous passion for incorporating valuable insights from local business leaders into the course curriculum, and I am excited to be a part of this," Stobaugh said. "I am also excited about the potential for further engagement with the students in Walton College."
Kirkland earned his B.S.B.A. in management information systems from Walton College in 1999. He started at J.B. Hunt in 1999 in the Dedicated Contract Services division. In 2009, Kirkland went to work for Liquidity Services, Inc., and in 2011 he began working at Transplace. He was there until 2012 when he returned to J.B. Hunt as director of transportation for the Integrated Capacity Solutions group.
"As our customers' supply chains become more complex, information technology becomes just as important as pricing and service levels within the industry," Kirkland said. "Customers expect and deserve fast and easy access to information to help them analyze and support the decisions they make every day. J.B. Hunt invests in both the people and systems needed to make this possible."