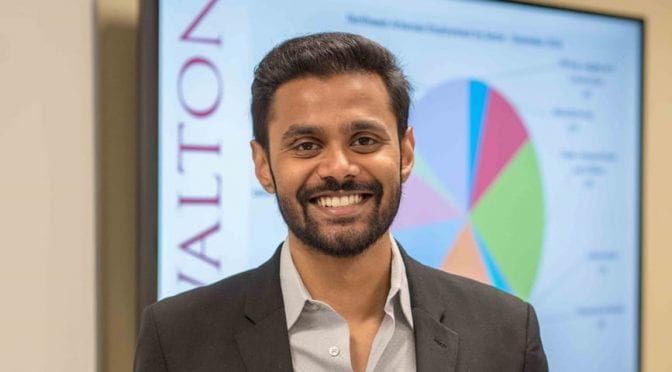 Mervin Jebaraj, director for the Center for Business and Economic Research at the Sam M. Walton College of Business, has been named a director for the National Association for Business Economics Board.
"Mervin is a perfect complement to Raja Kali, department chair, and Gary Ferrier, university professor, as they provide the leadership to strengthen the economics program at the U of A, our partnership with NABE, the Certified Business Economist program and the economic analytics graduate program," said Mary Ann Greenwood, founding partner of Greenwood Gearhart investment advisory firm, member of the Walton College Dean's Executive Advisory Board and a 45-year member, former board member and fellow of the national association. "With the strong support of Dean Matt Waller, our students and Arkansas business will benefit from this giant step forward."
"I am excited to represent the University of Arkansas at a national level on NABE's board and advance involvement with NABE as a university partner in our new economic analytics master's program in the Walton College," Jebaraj said.
Jebaraj joins Elaine Buckberg, chief economist, General Motors; Carlos Herrera, chief economist, Foodservice and On-Premise, Coca-Cola North America; and Dana Peterson, executive vice president, chief economist and leader of the Economy, Strategy & Finance Center, The Conference Board, who were also elected as new board members.
"NABE is the leading organization for business economists throughout the country," said Brent Williams, associate dean for executive education and outreach at Walton College. "This election by NABE members reflects Mervin's standing among economic leaders in business and academia. I am proud of his contributions to Walton College, Arkansas and this professional economic association."
NABE is the premier professional association for business economists and those who use economics in the workplace. Its mission is to provide leadership in the use and understanding of economics.
About the University of Arkansas: As Arkansas' flagship institution, the U of A provides an internationally competitive education in more than 200 academic programs. Founded in 1871, the U of A contributes more than $2.2 billion to Arkansas' economy through the teaching of new knowledge and skills, entrepreneurship and job development, discovery through research and creative activity while also providing training for professional disciplines. The Carnegie Foundation classifies the U of A among the top 3% of U.S. colleges and universities with the highest level of research activity. U.S. News & World Report ranks the U of A among the top public universities in the nation. See how the U of A works to build a better world at Arkansas Research News.