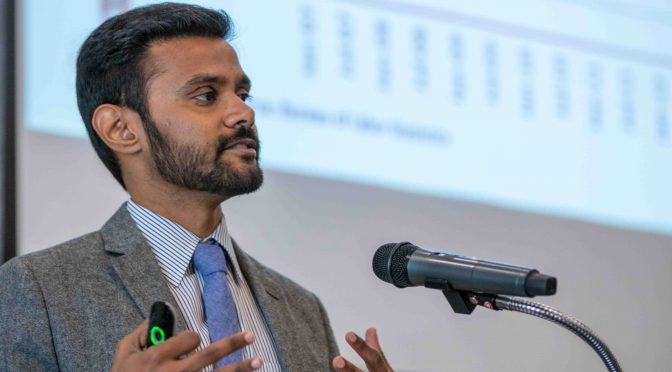 Mervin Jebaraj has been named director of the Center for Business and Economic Research at the Sam M. Walton College of Business at the University of Arkansas following a national search. His new role begins effective Jan. 1.
Jebaraj has been serving as interim director of the center since April 2017, when he took over from Kathy Deck.
"I look forward to continuing and expanding the range of economic analyses and services that the Center for Business and Economic Research has been known for during its 75-year history," Jebaraj said. "The center will continue to fulfill its role as the most relied-on resource for critical economic information in the state of Arkansas and serve as a catalyst for economic development in the state."
Jebaraj earned a bachelor's degree in economics and international relations from the University of Arkansas in 2007 and a Master of Public Administration in public policy from the U of A in 2011. He was previously the assistant director at the center, where he has worked since 2007.
"Mervin has been key to the depth and breadth of data to come out of the Center for Business and Economic Research for several years," said Matt Waller, dean of the Walton College and the Sam M. Walton Leadership Chair. "We are excited that he will now lead the center and its work that is so pivotal to the success and growth of business all across Arkansas. He is a great resource to have at the head of this key player in the state's economic and business activity."
During his more than 10 years at the center, Jebaraj has been instrumental in creating and executing economic studies for clients such as the Arkansas Economic Development Commission, the Northwest Arkansas Council, the Walton Family Foundation, Arvest Bank, the University of Arkansas and many others.
He has been recognized as one of the "Fast 15" by the Northwest Arkansas Business Journal, as one of the "20 in their 20's" by Arkansas Business, and as a member of Leadership Arkansas Class VIII. He is an exceptional source of business and economics-related expertise whom journalists and business people alike rely on to understand how national and regional issues impact Northwest Arkansas and the state as a whole.
Jebaraj has made presentations that share the center's expertise directly to more than 5,000 individuals annually, and tens of thousands more hear and see his economic analysis and commentary through TV, radio and print media.