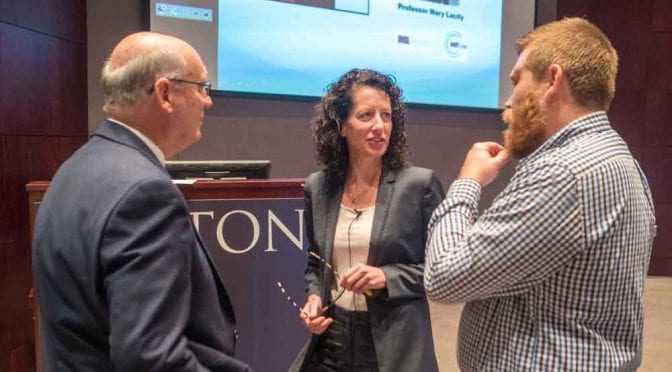 Mary Lacity has been named to the Walton College Professorship in Information Systems and director of the Blockchain Center of Excellence effective July 1. Previously, Lacity served as Curators' Distinguished Professor and International Business Fellow at the University of Missouri-St. Louis.
"I am thrilled Mary is bringing her extensive knowledge of blockchain and information systems to Walton College," said Matt Waller, dean of the Walton College. "Walton is committed to discovering and supporting innovation surrounding blockchain, a secure online ledger which touches retail, data analytics and entrepreneurship, Walton's primary strategic endeavors. Mary will be a huge asset to our students, faculty, college and our state."
Lacity's research focuses on the delivery of business and information technology services through global sourcing and automation using robotic process automation, cognitive automation and blockchains. She has conducted case studies and surveys of hundreds of organizations on their outsourcing and management practices.
"I am excited to join the Department of Information Systems as director of the Blockchain Center of Excellence. The faculty, staff, administrators and industry advisers have built something extremely relevant for our students, for Arkansas and beyond," Lacity said. "Based on interviews in more than 30 organizations, two surveys and participant observation in a blockchain corsortium, I am convinced that blockchain technologies could generate trillions of dollars of value, but there are technical and managerial challenges that need to be addressed first. I hope that the Center of Excellence helps our students and industry partners address these issues to deliver real business and social value."
Lacity has held visiting positions at MIT, the London School of Economics, Washington University and Oxford University. She is a Certified Outsourcing Professional®, industry adviser for Symphony Ventures, and senior editor for MIS Quarterly Executive.
Lacity has given keynote speeches and executive seminars worldwide and has served as an expert witness for the U.S. Congress. She was inducted into the International Association of Outsourcing Professionals' Outsourcing Hall of Fame in 2014, one of only three academics ever to be inducted. She was the recipient of the 2008 Gateway to Innovation Award sponsored by the IT Coalition, Society for Information Management and St. Louis Regional Chamber and Growth Association. She has published 28 books, most recently A Manager's Guide to Blockchains for Business from SB Publishing, UK. Her publications have appeared in the Harvard Business Review, Sloan Management Review, MIS Quarterly, MIS Quarterly Executive, IEEE Computer, Communications of the ACM and many other academic and practitioner outlets.
Lacity holds a Ph.D. in business administration, with a focus on management information systems and quantitative management science, from the University of Houston. She earned a Bachelor of Science in Business Administration, with a focus on quantitative business analysis and economics, from Pennsylvania State University.