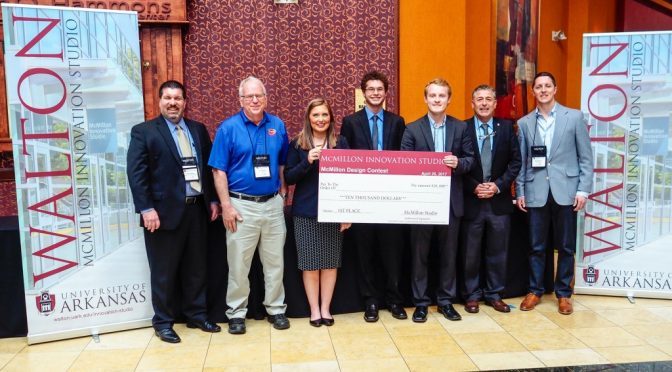 The Lovelace Technologies team took top honors in the first entrepreneurial design contest sponsored by the McMillon Innovation Studio.
The team, made up of business and engineering students from the University of Arkansas, designed a low-cost method for Tyson Foods Inc. to perform real time inventory tracking as well as a website that can notify employees when something is missing. The team developed a small, low-cost module that can be placed in the bottom of a cabinet or on the walls of a room and can read any radio-frequency identification tag within 16 feet.
Lovelace Technologies – Lexie Booterbaugh from the Sam M. Walton College of Business and Canon Reeves, Jace McPherson and Ted Thorpe from the College of Engineering – won $10,000 in seed money to further develop the concept.
"One aspect of the McMillon Innovation Studio's mission is to extract student-led innovation from the University of Arkansas campus," said Brent Williams, Walton College associate dean of executive education and outreach. "This spring's design contest was a great first step. I cannot wait to see where Cannon, Lexie, Jace and Ted are able to take their company!"
The competition, co-managed by Robert Saunders, assistant department chair in electrical engineering, and Clint Johnson, director of the McMillon Innovation Studio, was sponsored by the studio, Tyson Foods Inc., Texas Instruments and Startup Junkie.
"The design contest was an opportunity for business and engineering students to showcase their talents while jump-starting a business," Johnson said. "This was a good test to gauge cross-campus involvement in the studio, industry excitement and student participation. This is just the first of many such events, involving more of the campus and more industries."
The other two finalists in the competition were NKR Technologies, made up of engineering students Kirsch Mackey and Nadia Smith and Walton College student Diajha Cox, and Tracker Box, with Matthew Snider, Sam Milligan and Kashu Yamazaki from engineering and Travis Landry from Walton College.
The competition began in March when students were presented with the real-world business problem and challenged to develop the software, create the physical device and devise a business plan to scale the solution. The winner was announced at the Trends in Technologies conference April 26. Each of the three teams pitched their idea to conference-goers before the winner was announced.