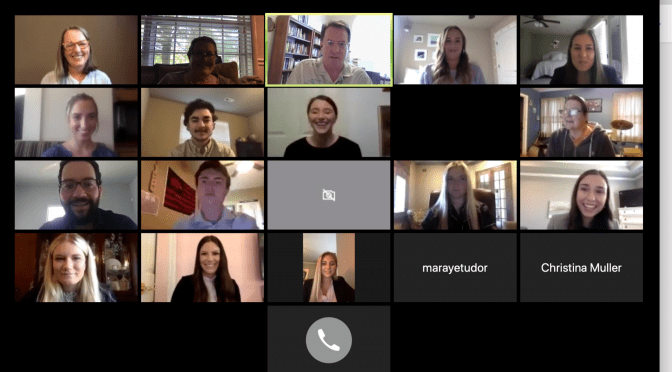 Smells evoke many memories. Freshly baked chocolate chip cookies, a newly mown lawn, honeysuckle, an herb garden or a sweet perfume may make you remember special people or events with just one whiff.
For Helen of Troy, a multi-national parent company of many well-known household brands, the smell of Brut is not just walking down memory lane. It is big business.
Brut cologne was introduced to noses around the world in the 1960s. It is one of the most recognizable personal care lines for men. But after decades of marketing the manly scent, how do you keep it relevant?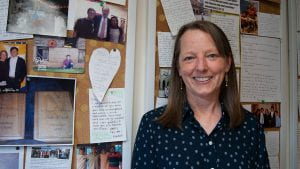 Enter the students from Marketing Management, a senior-level class taught by Molly Rapert, an associate professor in the Department of Marketing at the Sam M. Walton College of Business at the University of Arkansas. The class assignment was to reposition Brut in the market. Helen of Troy representatives mentored students during the process and judged the presentation.
"Before I ever stepped foot in Molly's classroom, I knew I was going to enjoy her class. However, there were two things I didn't know," said Brent McQuitty, a 2020 senior majoring in marketing. "One, that I would be taking my capstone marketing class during a global pandemic. Two, that I would be participating in a semester-long group project with a grand prize of $10,000."
The class normally works on team projects, just as they would do in business, but COVID-19 quickly changed those plans.
In March, campus closed with classes moving online. Social distancing policies were implemented. Some students were no longer in Fayetteville. This meant the class could not have face-to-face planning sessions, presentations or joint research sessions. Suddenly, everyone had to rethink how to tackle the project.
To assist, Rapert gave students the option to complete three modules or assignments at home.
Most accepted that option, but two teams opted to stay with the aromatic assignment even though they faced challenges. Students began to research the brand, learn more about the world of cologne and perfume and understand the values of the Brut product line. Each team researched market share, target audience and the best tools to reach that audience.
Then they created campaigns. Each team decided to use social media and television to promote Brut.
"Rich Lawrence and Ashton Gill (both of Helen of Troy) were so happy that their company is donating $10,000 in scholarship money to be split among the 11 students in the final two groups," Rapert said. "In addition, Rich asked if they would present again for the vice president of operations, marketing director, finance director, trade representative and senior analyst of the company. My students are beyond excited."
Team One: #BeASmellModel
Knowing how strongly that memories are tied to smell, the first team elected to create a campaign featuring country music stars who would talk about their "smell model," a mentor or loved one that they identified by a specific warm, loving aroma. They researched country music singers who happened to have a strong social media following and interviewed each. They then produced short videos to promote Brut by asking each performer about their smell model.
They approached Barrett Baber, Kelly Sutton, Rachel Wammack, Jake Hoot and Lena Stone. The stars talked about their moms, dads, grandparents and even Dolly Parton and Keith Urban as their smell models.
To promote the videos, the team looked at country music networks and decided to ask Bobby Bones, a popular country music radio and television personality, to endorse the brand. Bones, a transplanted Arkansan, is a syndicated radio host living in Nashville. He was a natural choice.
The team tried multiple times to secure Bones' assistance – they tagged him on social media, emailed a video, tried to send products in the mail – but each time was unsuccessful in getting Bones' to respond.
Team One's final recommendation was to embrace nostalgia, utilize storytelling and ask people about their smell models.
Team Two: #BrutMe
The second team took a different approach. They researched the ads Brut had used in earlier decades. Many of the ads focused on athletes. They decided to extend that theme.
Next, they looked at connections they had to professional athletes who might endorse the product. They listed each and researched the athlete's influence on social media. The team asked if they would participate in the project.
Team Two hit roadblock after roadblock. Many athletes represent other products and had non-compete clauses in their endorsement contracts leaving them unable to participate. Some were not familiar with the Brut product line. Many were focused on other projects.
Feeling discouraged, several team members talked to parents late in the project about their challenges. Two parents casually mentioned they knew a professional athlete: Jeff Frye, retired MLB player, and Joe Kleine, a retired NBA player. Finally – success!
Using a #BrutMe theme, the team was able to create videos reminiscent of past ads with these athletes using Brut. The athlete looks at the camera and says "Brut me" to endorse the product.
Team Two's final recommendation was to improve social media presence, use authentic consumers as endorsers, invest more in television and make sharing easy across social media platforms.
Both teams had challenges in finding the right people to endorse the product. They learned much along the way about product endorsement, U.S. Postal Service restrictions – can't send flammable items via airmail – and dealing with rejection. They persisted.
Even COVID-19 could not stop them.
"Being forced to not accept failure, but rather learn from it has already improved my mindset and will continue to in the future. We also learned to leverage our networks in order to reach a goal, which is clearly a valuable lesson in the connected society we live and work in," said Riley Schmidt, a 2020 senior majoring in marketing. "It goes without saying that COVID-19 presented its fair share of obstacles. Our final challenge was to put together a virtual presentation capturing our work in a compelling way. Think creatively and always be ready for change."