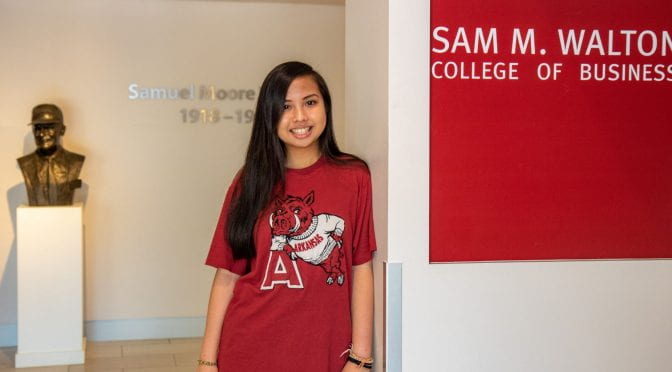 Sometimes birthday surprises are more than cake, balloons and confetti. Sometimes they are life changing.
"It was my birthday and I woke up late and got a text from my friend who worked at the same restaurant as me," said Mary Pham. Pham had just graduated from Conway High School and was getting ready to head off for Fayetteville to study at the University of Arkansas and its Sam M. Walton College of Business. "I decided to pick up her shift that morning since she was too sick to work.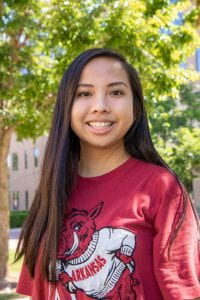 "As I was getting ready, I checked my emails and saw one that had the subject 'Boyer Fellowship' and as soon as I read the preview 'I am honored to…' I knew what it meant."
What it meant was that Pham had been selected as the Walton College's Boyer Fellow – a distinction that carries with it a financial award covering four years of study including tuition and fees, room and board, books and supplies, travel and special equipment. At $18,500 annually, the Boyer Fellowship is the largest awarded on the University of Arkansas campus.
Pham is the 15th recipient of the fellowship and the generosity of Tommy and Sylvia Boyer, who established it to attract top students to the University of Arkansas and the Walton College and encourage the best minds to stay in the state after graduation
"Their generous donation has given me and other students the opportunity to meet their fullest potential in their college experience," Pham said. "Especially those whose families may not have the financial means to pay for trips and services that may be useful for their career.
"For me, the fellowship made me feel limitless in what I can do in college. I wish more people knew about this fellowship and how powerful the award can be to the recipient."
Pham is a first-generation college student and the daughter of immigrants. She feels a responsibility toward her whole family to make the most of the doors that the fellowship has opened for her.
"My whole extended family has never attended college until my generation," she said. "My parents were proud of me to be the first child in my extended family to be attending the University of Arkansas. Now all my younger cousins want to go to the U of A like me."
"My parents were born and raised in Vietnam and moved to the United States in the late 80s to Southern California," Pham said. "Up until 2001, my father worked in a shipbuilding company and my mother worked as a seamstress. They both were paid very little and were forced to share an apartment with an uncle's family. My brother is seven years older than me, and I am the youngest child in the family.
"Nine months after I was born, my parents moved our family to Conway and I have lived there my whole life. My parents never went to college because they came from a poor upbringing and couldn't afford to go to university, much less during the fighting in Vietnam. They have since worked in a nail salon while we were in Conway and encouraged me to study hard and live a better life for them."
The Boyer Fellowship also has supported Matthew Evans of Conway, Thea Winston of Forrest City, Jonathan Benson of Fort Smith, Stacia Baughman of West Fork, Brinkley Cook-Campbell of Mount Judea, Joseph Rossetti of Fayetteville, Robert Ivers of Texarkana, Sarah Wells of Arkadelphia, Amanda Wyatt of Fort Smith, Tommy Vo of Fort Smith, Kimberly Wilkes of Fort Smith, Chenin Vadalma of Hot Springs, Brandy Wells of West Fork and Adrienne Jung of Van Buren.
"We are so happy that the Boyer Fellowship continues to help Walton College students realize their dream of earning a college education," the Boyers said. "When we established the fellowship, we already had been involved with supporting scholarships for some time. We hoped that the fellowships would attract students with the best minds and leadership skills to study at the University of Arkansas and upon graduation remain in the state. We believe that hope has been realized. In fact, we could not be more impressed with the students' accomplishments and the work they have done."
Tommy Boyer, B.S.B.A. '64, was inducted into the Arkansas Business Hall of Fame in 2013. He currently serves as a member of the University of Arkansas Board of Trustees. Boyer has served as chair of the Walton College Dean's Executive Advisory Board, chair of the Arkansas Business Hall of Fame selection committee and was the college's 2008 commencement speaker. Boyer was presiding co-chair of the U of A's Campaign for the Twenty-First Century from 2000-2002.
Sylvia Boyer, B.S.E. '63, was on the national board of directors for the Arkansas Alumni Association from 1988-1999, serving as its president in 1996-1997. She was the chair of the Alumni House Campaign and Renovation Project from 1996-1999 and also served with her husband on the Campaign Steering Committee and as the vice chair of that committee's College/School/Unit and Regional Subcommittee. She also has served as chair of the Dean's Advisory Council for the College of Education.
In 1992, the University of Arkansas named the Boyers its volunteers of the year, and in 1999, the Arkansas Alumni Association honored the Boyers with the Andrew J. Lucas Distinguished Service Award.
"The Boyer Fellowship will definitely take the financial burden of college off my back and allow me to focus on the good parts of university life," Pham said. "I often was stressed or anxious about paying for college but with the Boyer Fellowship I can study with a clear head and enjoy meeting new students and faculty, attending classes, and being involved on campus."
The Boyer Fellowship meant more to her than just finances, though.
"The process of being selected as the recipient meant a lot as I was chosen from a group of talented students," she said. "Something as simple as a 30-minute interview on FaceTime made me stand out among my peers in the eyes of the Honors faculty. I was happy to know that these people – Jason Adams, Katie Pope, Alan Ellstrand, John Delery – saw something in me and believed in my future success."
Pham's parents are her inspiration to work hard and stay focused in school.
"My mom was a little strict on me in elementary school, when she would scold me if I went below an A, and my dad was always proud of every little thing I did," she said. "So together they made a great team and as I got older, I was given so much freedom in school as nobody checked my grades. But I still tried to receive all As and show my parents my report card."
Pham attended St. Joseph School in Conway until the 11th grade when she transferred to Conway High School. "The dynamic there was much different and I had a lot of adjusting and catching up to do," she said. She transferred to take advantage of AP classes and to experience something new academically. At St. Joseph's, Pham participated in Family, Career and Community Leaders of America; National Honor Society and soccer. At Conway High she was involved in Model United Nations and Key Club. Outside of school, she volunteered at the St. Joseph Flea Market and the City of Hope Outreach in Conway.
"I never needed encouragement, but I learned to appreciate the life that my parents gave me as immigrants who never attended college," Pham said. "I saw the value of an education and made the most of what I had in school.
"My parents are my favorite people in the world and continue to be my inspiration each day. I aim to be like them: smart, kind, loving and hard-working."