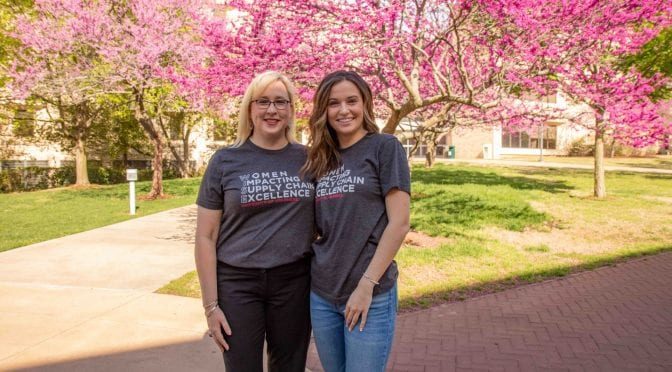 McKenzie Meehan, a junior majoring in supply chain management at the Sam M. Walton College of Business, at the University of Arkansas, was awarded an Excellence in Education Scholarship by AWESOME (Achieving Women's Excellence in Supply Chain Operations, Management, and Education). Meehan is one of five recipients nationally to receive the award.
AWESOME is comprised of women in executive roles in the supply chain industry. Each year the organization invites 22 universities with top supply chain programs to nominate one student to compete for the scholarship. Faculty members nominate young women currently enrolled in supply chain programs who demonstrate supply chain leadership.
"I am excited that McKenzie received this award because I believe that she embodies the characteristics that make for a successful supply chain leader," said Stephanie Thomas, clinical assistant professor at the Walton College. "She is highly motivated, willing to work hard, equally comfortable in a leadership or supporting role, dependable and coachable. The connections she will make through this scholarship award will be invaluable to her future supply chain career."
The AWESOME Excellence in Education scholarship will allow Meehan to participate in the Council of Supply Chain Management Professionals EDGE Conference in Anaheim, California, in September 2019 and the AWESOME Symposium in May 2020.
"This scholarship allows me the chance to acquire knowledge and experience from incredible women and industry leading companies and then extend that investment from myself to the other students here at Walton College," Meehan said.
Recently the Chancellor's Commission on Women named Meehan one of the University of Arkansas' Extraordinary Women. She also serves as the president of Women Impacting Supply Chain Excellence, a registered student organization on campus, and is a student member of the Council of Supply Chain Management Professionals, a national professional organization. Meehan is personnel chair for the Chi Omega sorority and chairs the senior relations committee for the Student Alumni Board at the University of Arkansas. She interned with Academy Sports + Outdoors last summer and will intern with General Mills this summer. She hails from Overland Park, Kansas.
The additional student scholarship recipients for 2019 attend Michigan State University, Auburn University, Penn State and Syracuse University. Previous scholarship winners from the University of Arkansas are Kyani Alford, a 2016 recipient, and Monica Sewell, a 2018 recipient.