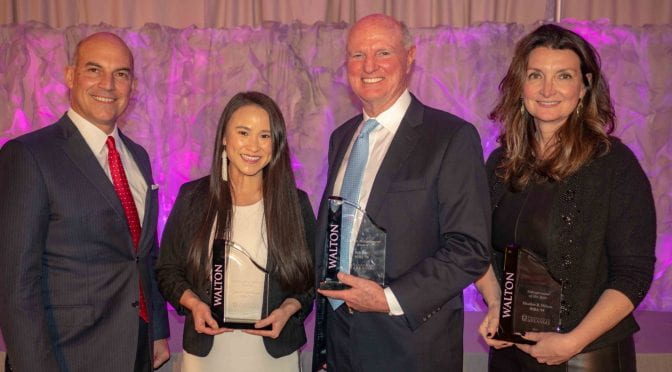 The Sam M. Walton College of Business recognized three exceptional alumni and nearly 60 students for outstanding achievement at its annual awards banquet.
Walton College presented the following alumni awards at its 26th annual awards banquet on Thursday, April 18:


Lifetime Achievement Award – Bob East '70


Entrepreneur of the Year – Heather R. Nelson '94


Outstanding Service Award – Joanne Tam Fuller '14


OUTSTANDING ALUMNI
Bob East
Bob East is a native of Little Rock and earned a Bachelor of Science in Business Administration from the Walton College in 1970. He served as a sergeant in the U.S. Army from 1970 to 1972 and then embarked on a career of serial entrepreneurship.
East founded Robert East Company in Little Rock as its sole employee in 1975. In 1978, his friend Tom Harding joined him to create East-Harding Inc., a general contracting firm. By 2009, the company had an annual volume of $45 million, at which time East and Harding implemented a management succession plan that ended in a sale of the majority interest of East-Harding to Van Tilbury. East purchased Advanced Cabling Systems in 1998, with three employees and $300,000 in revenue. As a contractor and developer, he knew fiber optics were the next big thing and understood that contractors would like to have a one-stop shop for their cabling and security needs. East grew Advanced Cabling Systems into one of the largest installers of cabling, fire alarms, CCTV and entry access systems in the United States. He served as chief executive officer of the company until January 2019, when it was sold to ADT.
East was named Arkansas Business Executive of the Year in 1996 and was a member of the U.S. Commerce Department Advisory Committee for Trade Policy Matters from 1995 to 1998. He is past chair of the national board of directors of Associated Builders and Contractors and a member of the American Institute of Constructors.
Heavily involved in his community, East was president for three years of the Little Rock Downtown Partnership and a member of the Little Rock Airport Commission for 10 years. He has previously served as chair of the Arkansas Nature Conservancy board and Arkansas Cancer Research Center, among many others. He currently serves on the board of Bank OZK.
Always in search of adventure, he has climbed Mount Everest, floated the entire length of the Mississippi River, run with the bulls in Pamplona and across the Grand Canyon. East lives with his wife in Little Rock and has two children.
Heather R. Nelson
Heather R. Nelson holds a Bachelor of Science in Business Administration in marketing management with an emphasis in entrepreneurial management from the Walton College and a Master of Business Administration from the University of Arkansas at Little Rock. She is an experienced entrepreneur, speaker, writer, photographer and strategic visionary who utilizes her unique experiences to connect people and inspire them to change the world around them. She was recently named one of the 250 most influential Arkansans by Arkansas Business.
For nearly two decades, Nelson had a career in corporate lending for some of the largest banks in the nation. The opportunity to co-found Seal Energy Solutions in North Little Rock in 2012 came as a huge surprise and in just under five years, their team had built a $6.4 million firm covering Arkansas and Mississippi. She founded her own consulting firm — Global Headwaters LLC — in 2018 to serve others through speaking, storytelling and strategic planning.
Nelson is on the Arkansas Advanced Energy Association Board of Directors, Restored and Renewed Ministry Board of Directors, The Excel Center at Goodwill School Advisory Council and the Arkansas Advanced Energy Association Distributed Generation Task Force. She also travels to Haiti regularly with The Global Orphan Project, championing global artisans to reduce the need for orphanages and economic orphans through job creation and economic development. Nelson also actively gives back to her alma maters, having served two terms on the National Board of Directors for the Arkansas Alumni Association, the Walton College Alumni Society where she served as president and helped create the Molly Rapert Endowed Scholarship and on the Taste of Little Rock committee for the University of Arkansas at Little Rock Alumni Association, working to raise scholarship funds for students in Central Arkansas.
Joanne Tam Fuller
Born in New York but proudly proclaiming herself a Fayetteville native, Joanne Tam Fuller loved growing up in the college town. Raised by small business owners and first-generation Americans, Fuller learned the values of generosity, hard work and perseverance from her parents, Tom and Pearl.
After graduating from Fayetteville High School, where she served as senior class president, Fuller attended Southern Methodist University, earning her Bachelor of Arts with dual degrees in corporate communications and public affairs and Spanish, graduating cum laude with honors in liberal arts in 2011. Upon graduation, she accepted a role at one of the world's most prestigious public relations firms, Ketchum, working on new product launches and national campaigns. In 2013, Fuller took her "can-do" attitude and enrolled in the Master of Business Administration program at the University of Arkansas and graduated in 2014.
She is currently working at Nielsen as an associate client director. She finds passion in leading her team and using data to tell stories and deliver business solutions to her clients. At Nielsen, she is part of the Diversity Leadership Network, a leadership development program designed to strengthen and diversify the leadership pipeline at the organization by accelerating a diverse group of top talent.
Outside of work, Fuller serves her M.B.A. alma mater as a career services support volunteer at the Walton College. She and her husband, Jake, along with their rescue pup, Lucy, live in Fayetteville. When she isn't hiking or walking the trails, Fuller loves catching up on the news, playing trivia, cooking and traveling.
UNDERGRADUATE STUDENT AWARDS


Outstanding Graduating Senior – Taylor Atwell.


First-ranked Senior Scholars – Taylor Atwell, John Fly, McKenna Orcutt, Olivia Stiegman.


Senior Scholars – Corey Armes, Kate Barger, Jack Bauer, Abby Boyd, Caitlyn Goodman, Hunter Hall, Taylor Hunt, Lindsay Isroff, Michael Johnson, Liza Lang, Christopher LoRusso, Kyle Massey, Madeline Mays, Hayden McDaniel, Margaret McNamara, Colleen Mellor, Joshua Morton, Scott Mrozek, Christina Nguyen, Samantha Overstreet, Haley Owen, Allison Page, Jessica Perez, Melaney Sanders, Evan Smith, Kyle Stuetelberg, Rebecca Vassar, Manasa Veluvolu, McKenzie Wages, Ethan Washispack, Jonathan White, Claire Williams, Courtney Wilson, Yaeli Yang.


Presidential Scholar Award – Zac Smith.


Sam M. Walton College of Business Student Leadership Award – Mia Norton.


Ralph Treat Outstanding Cooperative Student Award – Erin Breish.


Beta Gamma Sigma Award – Sam Johnson.


Walton College recognized outstanding students in these departments:


Accounting – Taylor Atwell, Jack Bauer, Grant Hylton, Lindsay Isroff, Lacey Moore, Matthew Schoenfelder.


Economics – Olivia Stiegman.


Economics, Arts and Sciences – Erin Farmer.


Finance – Alexandria Davis, Briar Duman, Gil Garcia, William Hays, Jessica Keith, Hayden McDaniel, Scott Mrozek, Grant Stevenson.


Information Systems – Sabine Tuyizere, Collin Young.


International Business – Caitlyn Goodman.


Management – Elizabeth Abston, Julian Alvarez, Gabrielle Barbour.


Management, General Business – Nicole Johnson.


Marketing – Madeline Mays, Colleen Mellor, Allison Page, Elizabeth Shaver, Evan Smith, Jonathan White, Claire Williams, Rachel Wyatt.


Retail – Emily Sellers.


Supply Chain Management – Kyle Decker, Winston Gonzalez Vega, Taylor Hunt, Christina Nguyen, Ashton Turner, Sadie Wallner.


GRADUATE STUDENT AWARDS
Walton College presented awards to outstanding graduate students in these programs:


Executive Master of Business Administration – Jared Lightle, Rachel Lusson, Sureshbabu Sreeramulu.


Master of Accountancy – John Fly, McKenzie Wages.


Master of Arts in Economics – Md Gias Uddin Khan.


Master of Information Systems – David Ferguson, PMIS; Jacob Young, MIS.