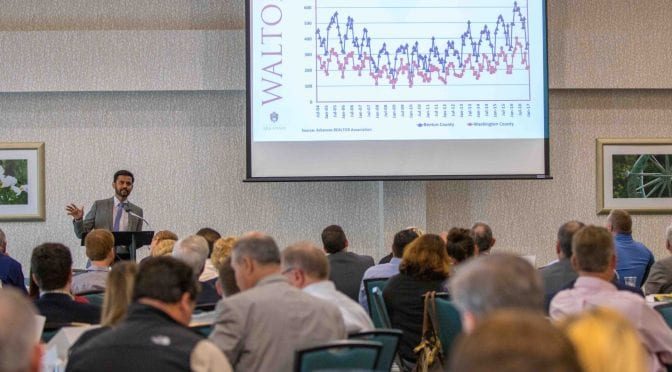 Mervin Jebaraj, director of the Center for Business and Economic Research at the Walton College, will present the regular Quarterly Business Analysis on Thursday, May 16.
The event is at 11:45 a.m. at the Hilton Garden Inn Fayetteville, 1325 North Palak Drive, Fayetteville.
"The program will take a look at new economic data for the nation, Arkansas and Northwest Arkansas, the reasons behind the Federal Reserve's change in monetary policy stance, the effect of yield curve inversions and the lingering effects of the tax cuts and trade wars," Jebaraj said. "As the national economic growth reverts to long-term trends, timely economic information is vital to good business and policy decision making."
The Quarterly Business Analysis program builds networks of leaders from business, academic and governmental sectors in the region while addressing business highlights of the previous quarter, key economic trends and projections and immediate and long-term issues facing the regional and state economy.
The program lasts for approximately 75 minutes, including time for questions and answers. Registration and networking will begin at 11 a.m. The cost for the Quarterly Business Analysis program and luncheon is $45. Preregistration by Friday, May 10, is required. Reservations can be made for the luncheon at cber.uark.edu or by calling 479-575-4151.