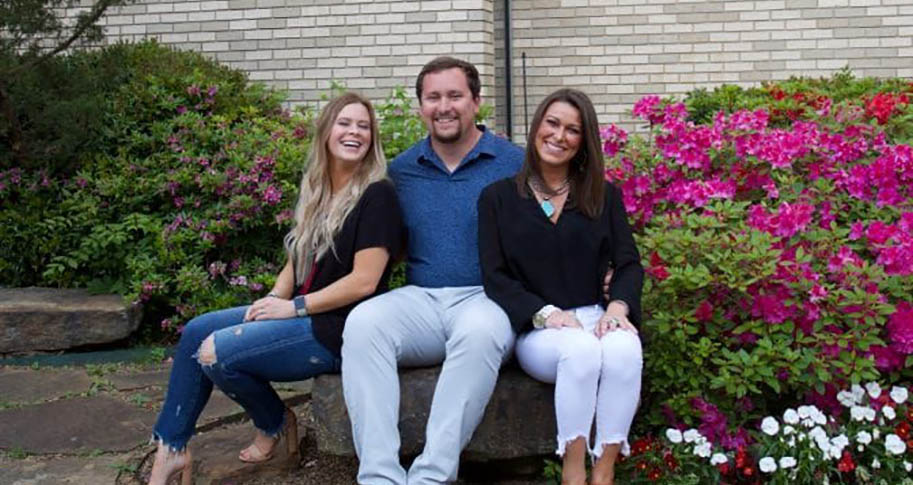 The Razorbacks were on the mind of 98-year-old Lundy E. Cavender as he wrote a quick note to accompany a newspaper article he sent to his two great nieces Lisa and Cara of Harrison, Arkansas.
Although he has lived in Ruston, Louisiana, since 1961, Lundy is a proud graduate of the University of Arkansas and several generations of Cavenders have followed in his footsteps to the university.
The Sam M. Walton College of Business recently solicited stories of multi-generational Razorbacks to learn why Walton College and the University of Arkansas is a way of life for many families. With four generations of graduates, the Cavender family of the Cavender Greek Seasoning fame shows how allegiance to the U of A is often a family affair.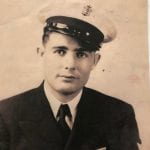 "I got my degree on June 3, 1950, in business administration," Lundy said. "All of my time at the university was just great. At that time, Fayetteville was filled up with veterans."
Lundy, who was "almost 99" when he was interviewed, served in the U.S. Navy during World War II as a senior radioman. He supervised a team of 38 on the USS Louisville and directed gunfire for the ship. While doing so, he lost his hearing in his right ear due to the loud ammunition.
"I was awarded 10 battle stars."
Originally from Idabel, Oklahoma, Lundy met and married a young woman from Little Rock after the war. He attended a community college in Little Rock and then moved to Fayetteville to complete his degree.
"The professors were so nice to me when I told them I had no hearing in my right ear," Lundy said. "They'd put me on the front row. I was so thankful. They treated us like kings."
His studies focused on marketing. His favorite subjects were sales and distribution. His least favorite class was accounting.
Due to a housing shortage, Lundy had to find accommodations off campus.
"For one year, I had to live in Prairie Grove. We arranged carpools to go to school. The last year I lived in Fayetteville in a little bitty apartment. The kitchen barely had enough room to get in it. But we survived it!"
"All the football games were on Saturday afternoons because Fayetteville didn't have lights. I had a car and there would be only 10 or 15 cars on the north side of the stadium."
The university built a special platform at Razorback Stadium on the 50-yard line for graduation, which was where Lundy received his diploma.
"I watch all the Razorback games I can," said Lundy, the father of three daughters and one son. "But there's a conflict at my house."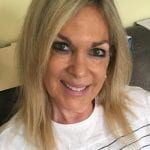 While eldest daughter Barbara graduated with honors from the University of Arkansas, daughter Beverly graduated from Louisiana State University. The family calls Louisiana home now and he cheers for LSU … when they play anyone but the University of Arkansas.
"I still call for the Razorbacks! Remember when we beat Duke for the (NCAA basketball) championship?"
After completing his degree, he lived with his wife Mary Joan and 3-year-old daughter Barbara in California while working at the North American Aviation Company for only four months before being called back to active duty.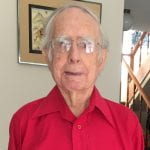 In his second stint with the Navy, Lundy traveled from Oakland, California, to the Panama Canal, up to Greenland and the Artic Circle on the USS Oakhill. At the end of his military service, he decided to visit friends in Fayetteville. One friend helped him get a job for the Chamber of Commerce in Helena, Arkansas, which was a stepping-stone for a job for the Chamber of Commerce in Shreveport, Louisiana, and then the Chamber of Commerce in Ruston in 1961.
Birds of a Feather
Like his great-great Uncle Lundy, Austin Price, who graduated from the Walton College in the spring of 2019 with a focus in marketing, has wonderful memories of the university.
"My dad has held the same football tickets since I was six years old," Price said. His family would attend football games and tailgate with friends. They would toss a football around and then walk to the stadium.
"That's what got me to love the Razorbacks."
Price notes four marketing professors that he credits with making the subject interesting and relevant to a part-time job at PAM Transport in Tontitown, Arkansas, where he interned during his last semester at Walton College: Dub Ashton, John Cole, Molly Rapert and Anne Velliquette. In class, he learned a lot about relationships, "the biggest thing in business."
"I love the campus – the beauty of it," Price said. "I'll really miss tailgating as a student. Students are the leaders of the stadium."
One thing Price won't miss is walking up the hills! He encourages all freshmen to learn how to hide the huffing and puffing incurred while walking across campus.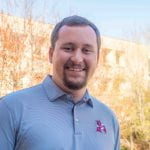 He also encourages incoming freshmen to:


Go to class! Even if you are tired, just wake up and go. It is amazing how much better you do.


Meet as many people as you can. Join organizations.


Don't be afraid to speak up in class.


It is okay if you don't know what your major is; just take care of classes.


Price comes by his love of the Razorbacks naturally. His mom Lisa Cavender and his aunt Cara Cavender Wohlgemuthare both U of A graduates. They own and operate, along with Cara's husband Lance, S-C Seasoning Company – the maker of Cavender's All Purpose Greek Seasoning – in Harrison, which is in north central Arkansas not far from the Missouri border.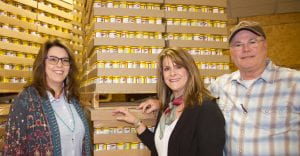 Lisa and Cara grew up knowing they would attend the university because of their father Steve's and grandfather Spike's attitude. Spike, the co-founder of Cavender's Greek Seasoning, only had an 8thgrade education. Steve, also a co-founder, urged his daughters to get a college education.
"He (dad) was adamant that Cara and I go to college," Lisa said. "I chose Walton because I wanted a business degree."
Lisa traveled around the country with her granddad "Spike" Cavender in the mid-1970s when he sold Cavender's spice out of his car. It is no surprise that she earned a B.S.B.A. in marketing. Her younger sister Cara earned a bachelor's and master's degree in education.
"I never thought of going anywhere else," Cara said. The two siblings lived together during Cara's freshman year.
"That lasted about three months," Cara said and laughed.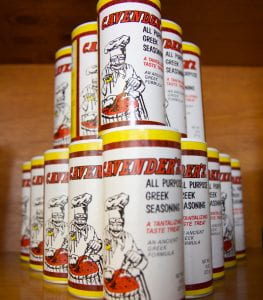 The two sisters began to work at S-C Seasoning Company in 1994 after their father Steve issued an invitation to both of them and their spouses to join him.
"We were fortunate to have 15 years with our dad," Lisa said.
"It's a family business," Cara added. "We all respect each other."
When Lisa took her son Austin to Walton College for a tour, she immediately sought counsel from one of her favorite marketing professors Dub Ashton.
"Dub laid out Austin's four year plan," Lisa said.
Cara's two daughters Katherine and Emily also chose the university earning social work and human environment science degrees respectively.
"We have a super sense of pride," Lisa said of the three cousins. "All three of them have done well."
With children in Fayetteville and an ongoing love of Razorback sports, Lisa and Cara travel to Fayetteville frequently.
"We keep the road hot," Cara said.