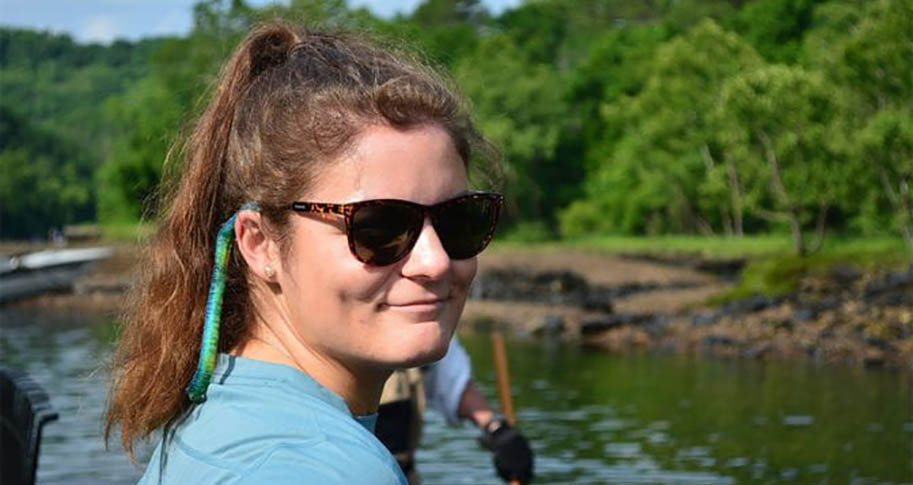 She loved to cook and made a sinful apple pie – cinnamon roll crust was her weapon of choice – and, at Thanksgiving, a tasty chopped cranberry relish. Even more than cooking, she loved her dog Beaux, a mixed Labrador and Whippet she took routinely to the dog park in Fayetteville and befriended the regulars there.
In high school, Sara was the kind of girl who would stay on the phone all night with a depressed friend to keep that friend from doing something rash, says her father, Andrew Hudson. She was able to convey that sense of calm – the same calm she drew from fishing – to others.
And she loved to share fishing stories.
"We would often visit after class about her going fishing over the weekend while she would share pictures of her catches of the day, and I'm quite sure she could out-fish just about anyone," says John Cole, marketing instructor. "She had a gentle personality and was not particularly outspoken, but there was no doubt she was dedicated to excelling in the Walton College."
'SHE JUST WANTED TO GET OUT ON THE RIVER'


As she neared graduation, Sara, occasionally dropped by marketing Associate Professor Molly Rapert's office for guidance in finding a job related to the outdoors and fly fishing. "She just wanted to get out on the river," Rapert says.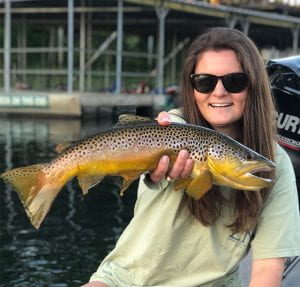 When it became apparent that the type of employment Sara was looking for wasn't immediately available, Rapert emphasized to her that, perhaps, the importance isn't the daily activities but the relationships she builds while on the job.
Sara graduated in May 2019 with a bachelor of science in business administration and then moved to Dallas after accepting a job as a logistic sales account executive with Schneider Transportation Management. To save money for an apartment, Sara moved in with Eugenia and her husband, Frank-Paul. As owners of Temple Fork Outfitters, which manufactures fishing rods, the couple helped open Sara's world to fishing and the outdoors during her formative years.
On the job, Sara heeded Rapert's advice and focused on her relationships, both with her supervisors and co-workers.
"She was a bright-eyed, high energy, contagious type of personality and was not afraid to come up to me and tell me how excited she was about the business," says Adrian Barbera, regional vice president for Schneider's South Regional Logistics Center in Dallas. "It really spoke volumes as to who she was."
Sara channeled her knowledge by securing future clients, beginning with her Uncle Frank-Paul. She got Temple Fork Outfitters a better deal on shipping with Schneider compared to the one the company had been using, her aunt says. Soon, Sara was calling other fishing products manufacturers, sharing fishing tales with like-minded managers and gaining new clients.
Finding her niche, Sara was ranked No. 1 in her performance among people in her tenure across all of Schneider's offices nationally, Barbera says.
"I think in the first few minutes she was in the training room, I knew she was really witty and just brilliant from the start," says Rene Barahona, talent and development partner with Schneider. "She caught on to things really quickly."
Sara was also making long-term plans. She had her sights working remotely for Schneider and living near Denver so she could fish in the Rocky Mountains.
Andrew Hudson says he observed that his daughter had reached an awareness of what brought her meaning and had huge heart to help others. "She had a listening ability and then would provide direct feedback to that understanding of that person, whether it be the person who had family issues, school issues, political issues," he says.
Sara's plans were falling into place and, on August 19, 2019, she had something else to celebrate: her 22nd birthday. Early that evening, when it was still daylight, she headed out to meet with her friends and new co-workers for a short celebratory gathering.
She never made it.
Sara was abducted, the victim of a random homicide.
MANY LIVES TOUCHED
The news devastated many who knew her and even those who didn't. In her short lifetime, she had touched many, and it was evident through the outpouring of tributes, programs and lasting memorials in her name.
At Walton, faculty quickly organized a fundraiser in Sara's honor to send 16 Owl Creek School students in need to the Outdoor Adventure Camp, a summer program with the city of Fayetteville that provides children opportunities to experience the outdoors, including learning how to fish.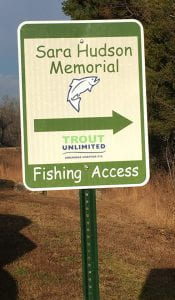 Trout Unlimited, Arkansas Chapter 514, where Sara was a member, was swiftly approved by both the Arkansas Game and Fish Commission and the U.S. Army Corps of Engineers to establish a memorial at the fishing access below Beaver Lake Dam near Eureka Springs. A road sign with her name was erected to direct people to the fishing spot, says Jesse Bishop, the chapter's membership chair.
At Schneider, the company renamed its Light Award to the Sara Hudson Light Award with the inscription, "Nothing can dim the light that shines from within." The award is presented by employees to their peers to celebrate that individual's personal success. The break room where she worked is now Sara Hudson Hall and features a plaque in her memory. Her desk in the office, with her possessions, has remained untouched as a reminder that life is precious and short, Barahona says. Schneider has also raised money in Sara's name to donate to a Dallas women's shelter.
Elsewhere, Temple Fork Outfitters is offering an internship in Sara's name and Cornetti Sandals, a business owned by Sara's cousin, Claudia Aragon, donated proceeds from sales to the Outdoor Adventure Camp and Project Healing Waters Fly Fishing, a program Sara supported for active military and veterans who are disabled.
Sara was born in Dallas, the daughter of Andrew Hudson and Laura Sacco, and spent a good part of her childhood in Bakersfield, California, before attending Cushing Academy in Ashburnham, Massachusetts, and spending summers with the Kings, with whom she already had a close bond. They went on vacations to Montana, where they fly fished, which evolved into a passion. Other fishing adventures included excursions to Costa Rica and Gangler's North Seal River Lodge in Manitoba, Canada. Sara was hoping to someday fish Alaska, her parents say.
During her fall breaks at Cushing, Sara and her aunt began touring universities in the South.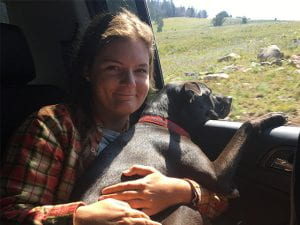 "Basically, when she went on the University of Arkansas campus, she just fell in love with it," King says. "She felt comfortable. She thought the people were nice. The setting was nice. She loved that there were hills around. There were all kinds of different people on the University of Arkansas campus."
There was also another connection. Frank-Paul King had family members who attended the university. It seemed like a perfect fit. Sara enrolled and, not long after, she found the university's fly-fishing club, where she eventually served as treasurer and secretary.
Majoring in marketing also fit her personality. She could strike up conversations in the grocery store line, her aunt says, and create connections. "And she could sell a stranger anything," her aunt says.
As a student, Sara worked at Gearhead Outfitters in Fayetteville and loved having a connection to the outdoors, her aunt says. She also helped arrange fishing parties and fund-raising banquets for Trout Unlimited.
Sara spent her winter breaks from school working for Diamonds Direct, a jewelry store in Dallas. Her selling skills were so strong, her employer put her on the sales floor for holiday shoppers. "She learned that she could easily follow instructions and get it done right," King says.
Those at Schneider were discovering that as well.
"It was so obvious that in three months that this was somebody who would do amazing things for us because we have seen others just like her, and she shined just as bright, if not brighter, than some of our best Razorbacks," Barbera says, noting that the company has several University of Arkansas graduates on its team.
She also got fishing right.
"There's a lot of great women fly fishers out there, but she was probably the best I ever met," Bishop says. "She could read water really, really well. So, not only was she a good angler on the water, she had a deep understanding for how trout ate and how they responded in rivers."
It was all about seizing the moment.
"She wasn't going to worry about the future, and she certainly wasn't going to worry about the past," King says. "She was going to enjoy today."