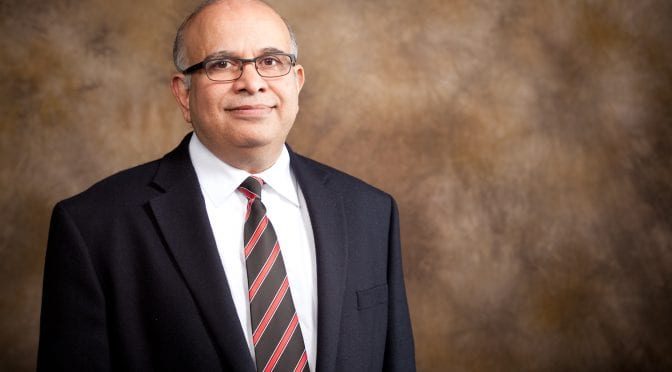 Rajiv Sabherwal, chair of the Department of Information Systems and Edwin & Karlee Bradberry Chair in Information Systems at the Sam M. Walton College of Business, has been named an IEEE Fellow, effective January 1, 2019.
Sabherwal was recognized for contributions to research on management of knowledge and information technologies. The grade of Fellow is conferred by the IEEE board of directors upon a person with an outstanding record of accomplishments in any of the IEEE fields of interest. It is the highest grade of membership and is recognized by this technical community as a prestigious honor and an important career achievement.
"All of us at the Walton College congratulate Rajiv on this honor," Matt Waller, Walton College dean, said. "His selection as an IEEE Fellow is yet another recognition of his outstanding research, teaching and service during his lengthy academic career. He sets a high standard of achievement for his department and for the entire Walton College. He also has been key in building an outstanding information systems faculty for our college."
"While being an IEEE Fellow is a huge honor for an engineering faculty, I am truly humbled by this recognition which few business faculty have received," Sabherwal said. "My heartfelt thanks to my teachers, collaborators, colleagues, and students for their insights over the years, and to the leadership of the University of Arkansas and the Walton College for their continued support."
Sabherwal was named a Fellow of the Association of Information Systems (AIS) in 2008 and is believed to be the first individual to become a Fellow of both IEEE and AIS.
At University of Arkansas, Sabherwal has also served as executive director for Walton College's Information Technology Research Institute and played a major leadership role in the formation of the university's Blockchain Center of Excellence, established in 2018. A long-time IEEE member, Sabherwal served as editor-in-chief of IEEE Transactions on Engineering Management for eight years. He has served as member of the advisory committee for the IEEE Technology and Engineering Management Society, vice-chair of the IEEE Ozark Section and program co-chair and panelist on IEEE and other prestigious conferences.
Sabherwal has authored more than 100 refereed publications, including in journals such as Management Science, MIS Quarterly, Information Systems Research, Organization Science and IEEE Transactions. He has published textbooks on knowledge management and business intelligence and presented at conferences and universities worldwide. Based on Google Scholar, he is ranked ninth at the University of Arkansas in terms of how often his publications have been cited in the literature. He has served as senior editor for MIS Quarterly and the Journal of Association of Information Systems, and guest editor for Information Systems Research. He has also served as Fulbright Research Chair.
Sabherwal earned his Ph.D. in business administration from the University of Pittsburgh, his Post-Graduate Diploma in Management from Indian Institute of Management Calcutta and his Bachelors in Engineering from Maulana Azad National Institute of Technology, Bhopal.
The IEEE is the world's leading professional association for advancing technology for humanity. Through its 400,000 plus members in 160 countries, the association is a leading authority on a wide variety of areas ranging from aerospace systems, computers and telecommunications to biomedical engineering, electric power and consumer electronics. Dedicated to the advancement of technology, the IEEE publishes 30 percent of the world's literature in the electrical and electronics engineering and computer science fields and has developed more than 1,300 active industry standards. The association also sponsors or co-sponsors nearly 1,700 international technical conferences each year. For more information about IEEE or the IEEE Fellow Program, visit www.ieee.org.