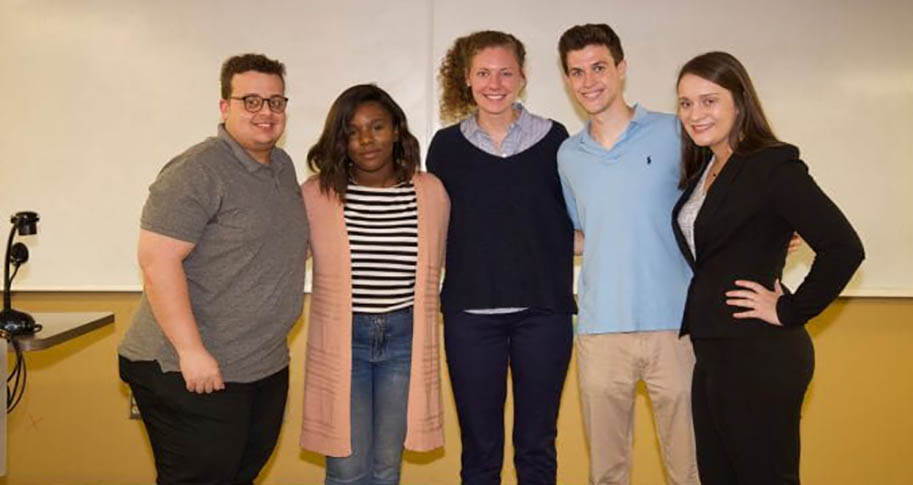 Hmmm. What to pick … pretzels, potato chips, corn chips, energy bars or popcorn?
For marketing seniors and juniors in the Marketing Category Management class at the Sam M. Walton College of Business, walking through the snack aisle in the grocery store is more than a shopping trip, it's an academic study.
Bob Bachtel, an instructor for the Department of Marketing and a principal for IRI Worldwide in Bentonville, leads this class and challenges students to research the salty snack category, devise a plan to drive sales and then present their solutions to the class and industry experts. The competitive exercise was the culmination of the class, which focused on data analysis using shopper and sales trends, product placement, shelving/modular and product placement design software and presentation skills.
The class is designed to provide students a strong skill set to get a job in the growing field of category management. Students can get certified in category management and Kantar Virtual Reality and learn to use shopper and sales data in category and business analysis.
Throughout the spring 2019 semester, category management students benefitted from corporate mentors and speakers from Walmart, Sam's Club, IRI Worldwide, Johnson & Johnson, Nestle, 8th& Walton, General Mills, PepsiCo, Harvest Group, Keurig/Dr. Pepper and Smuckers.
In addition, companies such as IRI Worldwide, the Category Management Association and Kantar Retail provided data sets and computer-aided design software to assist in researching shopper trends and placing products on shelves digitally.
Teamwork

For the final class project, the students formed six teams and began to research the overall category, find areas of growth in product development and target markets. From there, teams devised new or improved product lines, such as:





Team One: Dos Caras 2019




Team One – Dos Caras, Spice It Up, a new plain corn chip with flavor packets to add according to the spiciness level of the consumer's choice. Target market: millennials and young adults.



Team Two – Simply, a new product line of organic corn chips with guacamole and Sriracha hot sauce flavors. Target market: millennials through flavor and older adults through pricing.


Team Three – New packaging and flavors for KIND bars, an existing product line. Target market: older millennials and baby boomers.





Team Four: Pop Fuego




Team Four – Pop Fuego, a new line of popcorn with new flavors. Target market: middle class millennials



Team Five – Marley's Seaweed Chips, a new veggie chip. Target market: health conscious adults.


Team Six – New flavors for Tostitos, expanding an existing product with new flavors. Target market: Asian and Hispanic markets in west coast, Texas and southern states.


Industry professionals judged the six presentations on:


Thesis statement or the strength of the idea presented.


Supporting documentation or evidence.


Creativity in solution.


Presentation skills.


Wow factor.


Several teams noted the increasing Hispanic population and one team noted the increasing Asian population for their target market. Students also researched trends of Millennials, Gen Xers, Baby Boomers and more. From there, they researched product flavors and spokespersons that might appeal to those ages and markets.
Some targeted consumers interested in healthy snacks, while other teams targeted cost conscious consumers. The target audience would shape how each team promoted its product. Those focused on cost cutting would use coupons as a marketing tool, while products focused on the Hispanic market might launch the new product line before Cinco de Mayo (May 5) or during Hispanic Heritage Month (Sept. 15 – Oct. 15).
With the research done, consumer audience identified, products designed, and presentations created, teams were ready to present their work to judges Cole Dodson from IRI, and Steve Meehan, a retired industry executive, and Bob Bachtel.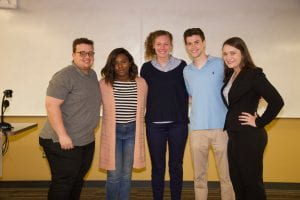 And the Winner Is …

The Dos Caras, Spice It Up! team won the class competition due to its proposed unique spice packet that comes with each bag of unflavored tortilla chips. The consumer adds the amount of spice they like to plain chips and then shakes the clear, re-sealable bag to distribute the flavors. If the consumer wants more spice, they add more.
The Dos Caras (Two Faces) product targeted Gen X and Baby Boomer population and the growing Hispanic market in the mid-Atlantic states and key markets in the western United States. It would launch with three flavors: hot sauce/jalapeno, chili/lime and mango/chili.
Dos Caras presentation included sales profit of $1.7 million for 450 Walmart stores at a sales price of $2.48 per bag.
The team tackled a 2% loss in the unflavored chip market with this interactive product. Its main competitors are the Juanita's, Tostitos and Old Dutch brands.
The salty snack industry is a $19 billion industry with 4% annual growth.