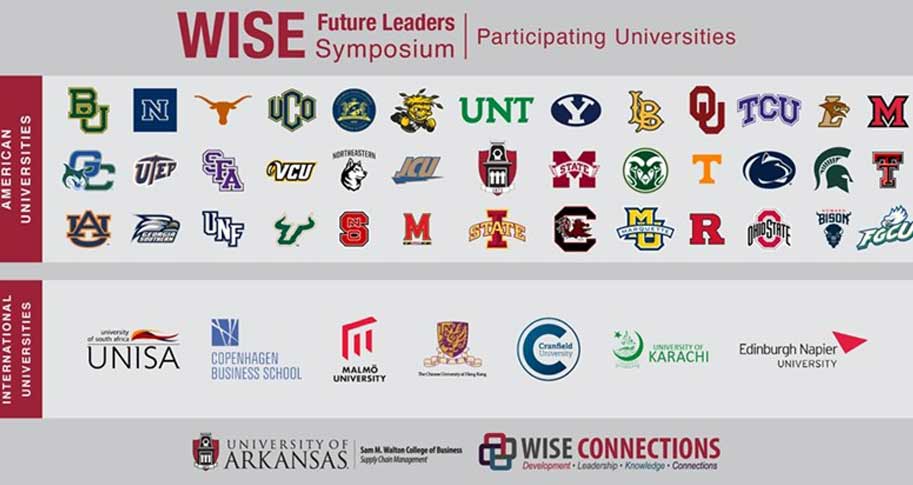 The "What's Your Vision" WISE Future Leaders Symposium drew several hundred participants from universities throughout the world for the streaming event in October that helped students, faculty and early career supply chain professionals connect.
Participants in the symposium attended remotely from 39 U.S. and seven international universities to hear keynote speaker Shelley Simpson, executive vice president, chief commercial officer, and president of Highway Services for J.B. Hunt Transport, Inc., and participate with her in an exercise about creating a personal mission statement to guide decisions about where to best focus time and resources to build a career in supply chain management.
"Shelley's exercise for our personal mission statement was truly moving!" one participant wrote in her feedback. "Definitely going to keep this in mind going forward!"
WISE is an acronym for Women Impacting Supply Chain Excellence, an organization that nurtures and encourages female participation in the field. It was formed at the University of Arkansas and continues to spread its influence and impact in colleges and universities throughout the United States. The symposium was overseen by Stephanie Thomas, WISE executive director and associate professor of practice in the Department of Supply Chain Management at the Sam M. Walton College of Business at the University of Arkansas.
The first WISE Future Leader Symposium was held at the University of Arkansas in October 2019, attracting 50 students and 15 faculty members from 13 universities to discuss and help chart the course of supply chain management into the third decade of the 21st century.
Throughout the event, women representing a variety of industries, roles and career stages shared their advice and experiences.
Dana Stiffler, vice president in Gartner research, and Beth Morgan, founder of boom!, shared survey results about women in leadership in supply chain. Sheila Benny, president of Optricity, and Alicia Hickman, manager of accounts and commercials at Optricity, shared their "mentor in the moment" process with the group and discussed how to manage the mentor relationship.
Carol Montandon, chief quality officer and global vice president, quality and compliance, at Johnson & Johnson, conducted a fireside chat in which she discussed her career path, involvement with the Women's Leadership Initiative at Johnson & Johnson, and what it's like working for a company working hard to develop a COVID vaccine.
Sponsors for the event were:


Shelley and David Simpson


B. Hunt Transport, Inc.


Johnson & Johnson


Procter & Gamble


Dollar General


BNSF Logistics


International Supply Chain Education Alliance


AWESOME


Optricity


Supply Chain Management Research Center


General Mills


RJW Logistics


Mondelēz International Inc.


Mars Incorporated


Plug & Play Supply Chain


Gartner