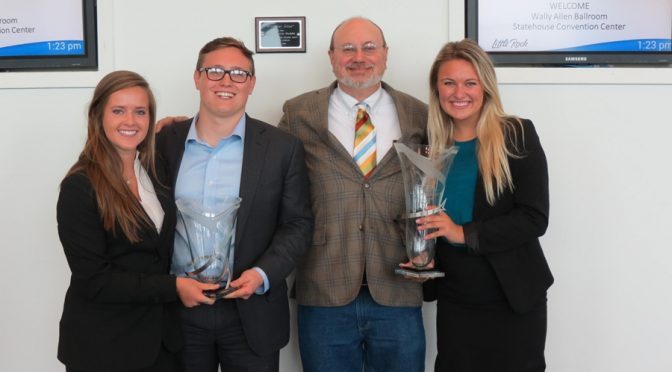 University of Arkansas teams took first place in the undergraduate division and swept all three places in the graduate division at the 2017 Donald W. Reynolds Governor's Cup Collegiate Business Plan Competition on April 11 .
Graduate team Rejuvenics, a start-up biotechnology company developing a platform for delivering chemotherapy to cancer patients with fewer side effects, finished in first place and won $25,000. The Rejuvenics team includes three executive M.B.A. students at the Walton College of Business: Joshua Phillips, Tiffany Jarrett, and Mary Rivard. The fourth team member is Amanda Stolarz, a University of Arkansas for Medical Sciences postdoctoral fellow and recent graduate of the UAMS PharmD doctoral program. Their drug delivery platform is based on research conducted by research professor Daniel Fologea in the department of biological sciences at the U of A and Michael Borelli, a professor of radiology, neurology and pharmaceutical sciences at UAMS.
Undergraduate team AgChron Technology, which is marketing a microchip identification tag and hand-held reader device that helps ranchers track livestock through the commercial production process, also placed first in its division and won the Arkansas Farm Bureau Agriculture Division Award. The AgChron team, which took home $30,000, includes U of A undergraduate students Austin Huett, an accounting and management major; Katie Gairhan, a major in public health with a minor in management; and Emily English, a marketing major with a minor in management.
Second place in the graduate division, the Delta Plastics Innovation Award, and $20,000 went to Grox Industries, a nanomaterials company that has developed a graphene oxide-based coating for windows that improves their energy efficiency. The company's entry product, Helios, is based on research by U of A chemistry professor Ryan Tian, who discovered a scalable method for turning graphene oxide into a non-flammable, paper-like graphene membrane. Grox previously took first place in the University of Manitoba Stu Clark Investment Competition and competed in the prestigious Rice Business Plan Competition earlier this month, winning their flight in the Challenge round.
Third place in the graduate division went to REDBioBattery, which is using a technology developed by U of A chemical engineering professor Jamie Hestekin to create a long-lived battery for implantable medical devices such as pacemakers, reducing replacement surgeries. Previously, the REDBioBattery team placed in the finals in the University of Louisville Business Plan Competition.
The Governor's Cup is the premier collegiate entrepreneurship competition in Arkansas. It was established in 2001 to challenge students who have ideas for new or better products or services. The goal is to see if the students can put their idea through a rigorous and real-world entrepreneurial process to create a profitable company.
Rejuvenics, AgChron Technology, and Grox Industries will advance to the Donald W. Reynolds Tri-State Awards May 30-31 in Las Vegas, where the teams will compete against the top teams from Nevada and Oklahoma.
This year, 41 teams from 8 Arkansas colleges and universities submitted business plans in the competition for a share of the $134,000 prize pool. Prizes were awarded at a luncheon featuring Arkansas Governor Asa Hutchinson at the Statehouse Convention Center in Little Rock.
Under the guidance of Carol Reeves, associate vice provost for entrepreneurship, the U of A's competitive graduate student teams have won more than $2.6 million in cash at state, regional, national and international business plan competitions since 2002.
"It's gratifying to see our teams come together from multiple campuses and disciplines and compete successfully in this important state competition," Reeves said. "Their hard work over the past year to understand customer needs and build products to address these needs has resulted in viable businesses and, more important, provided an education that the classroom alone can't offer."
Rejuvenics, Grox Industries and REDBioBattery formed last fall in the New Venture Development graduate course taught by Reeves, holder of the Cecil and Gwendolyn Cupp Applied Professorship in Entrepreneurship in the Sam M. Walton College of Business.
Mark Zweig, entrepreneur and founder of the firm Zweig Group, teaches entrepreneurship to undergraduate students at the Sam Walton College of Business and mentored the winning AgChron Technology team.
"It's great when you have students who can bring their academic training and actual work experience into a project like this," said Zweig. "Having smart students who are willing to be coached from the perspective of a real-life entrepreneur is a thing of beauty. Some of the students I had, as long as 13 years ago, I still work with occasionally to help with their businesses. I really love that."