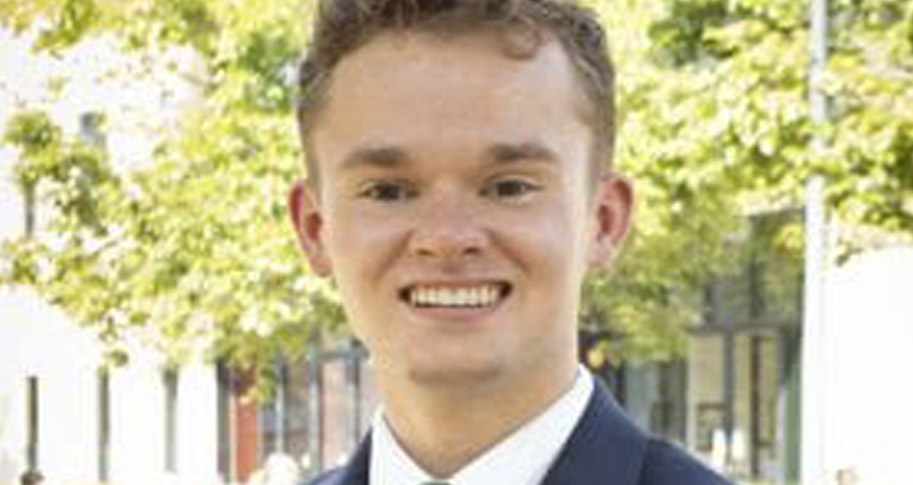 Why did you choose the University of Arkansas?
I visited a lot of different colleges across the country, but I was particularly impressed by the reputation and value of the University of Arkansas and its location in Northwest Arkansas. I immediately noticed that NWA offers big-city opportunities with a relaxed atmosphere, which is exactly what I was looking for.
Why did you choose to be an accounting major?
I chose to major in accounting because it is the language of business. While I pursued a double major and double minor to get a more holistic view of business, accounting is essential in understanding how companies function. In addition, knowledge in accounting opens up a diverse set of career opportunities.
What has been your biggest achievement during your time at Arkansas? Why?
As vice president of Beta Alpha Psi – an accounting, finance and information systems honor society – I have taken the initiative to host technology and data analytics workshops for Walton College students. My team and I placed first and second at the regional and international levels, respectively, and our project helped our chapter rank among the top 10 chapters in the world. I am proud of the work we have done to help Walton College students embrace the future of business.
How has your college experience differed from other students?
Taking a wide variety of classes has exposed me to different business perspectives I wouldn't have received by having only one major. Pursuing a double major and a double minor has allowed me to meet students with different backgrounds, interests and perspectives and learn from them. In my career, I will hopefully be able to communicate more effectively with people across departments because I better understand the work they are doing.
In your opinion, what has led you to having a unique college experience?
As crazy as it sounds, I am glad I changed my majors and minors many times while in college. This allowed me to have a broad range of experiences and meet a wide variety of people. I am a better student, leader and person because of this unique college experience, and I believe the interdisciplinary knowledge I obtained will prove beneficial as I begin my career.
What clubs are you involved in?
I have involved myself in many activities while in college, and I have held officer roles in Beta Alpha Psi, the Investment Club, the Walton College Finance Association and the Walton Honors Student Executive Board. Currently, I am vice president of Beta Alpha Psi and a member of Leadership Walton, Beta Gamma Sigma and Lambda Pi Eta. While not technically clubs, I also work as a tutor for the Walton College Business Communication Lab and as a staff writer for Walton Insights.
What do you plan to do after college?
I will start working at Walmart in the Global Audit Services Department as an internal auditor. I am excited to work for such an influential company and stay in Northwest Arkansas. In addition to my career, I enjoy playing piano and hope to have the opportunity to play for others in my free time.
Have you had any internships? Where?
I interned at Walmart in the Global Audit Services Department in Summer 2019 and completed a virtual assurance internship with PwC in Summer 2020. I learned a lot about retail and internal audit while at Walmart, and I had the opportunity to travel around the country conducting store audits. Both internships helped me expand my network and apply the knowledge I learned in my classes.
What would you say the best part of Walton is? Why?
My favorite part of Walton is how connected the college is with companies in NWA. Companies are genuinely interested in getting to know Walton students, and I have developed lasting relationships with professionals through networking and career events. After talking to my friends at other colleges, the U of A and Walton go above and beyond to connect students with professionals.
Have you received any scholarships while attending the U of A?
Yes, I was awarded the Chancellor's Community Scholarship for all four years of college, and I have received multiple academic and departmental scholarships over the years. In addition, I received two Honors College Study Abroad Grants. I am thankful for the generosity of Walton College donors, as these scholarships helped me get the most out of my education.
What is one piece of advice you wish you had freshmen year?
Like I mentioned earlier, I changed my major several times. This caused some stress because I thought I was wasting my time by taking classes that didn't contribute to my degree. I was worried I wouldn't graduate on time or be able to fulfill the requirements for my complicated degree plan. I realize now that there was no reason to worry. I wish I would have known that changing my majors and minors wasn't as big of a deal as I thought it was and that no class is a waste. In fact, some of the most impactful classes to me were ones that didn't end up contributing to my degree.
What is your favorite memory of being in Walton? Why?
My favorite memory is when I traveled to China for two weeks in 2019 as part of a Walton faculty-led study abroad program. I had never been out of the country, so I was blown away by the culture differences between the U.S. and China. We visited Chinese universities and companies in Beijing, Shanghai, Shenzhen and Hong Kong, and I even had the opportunity to present U.S. retail trends to Alibaba Group.
What has been your favorite class that you have taken? Why?
As a freshman, I took Dr. Lynn Meade's Advanced Public Speaking class. This class not only taught me a lot about public speaking, but it helped me open up and become more confident in myself. I was the only freshman in the course, so I interacted with 15 upperclassmen on a daily basis. They shared their college experiences with me and gave me great advice about college, careers and life in general. The connections I made with the other students in that class helped me get to where I am today.