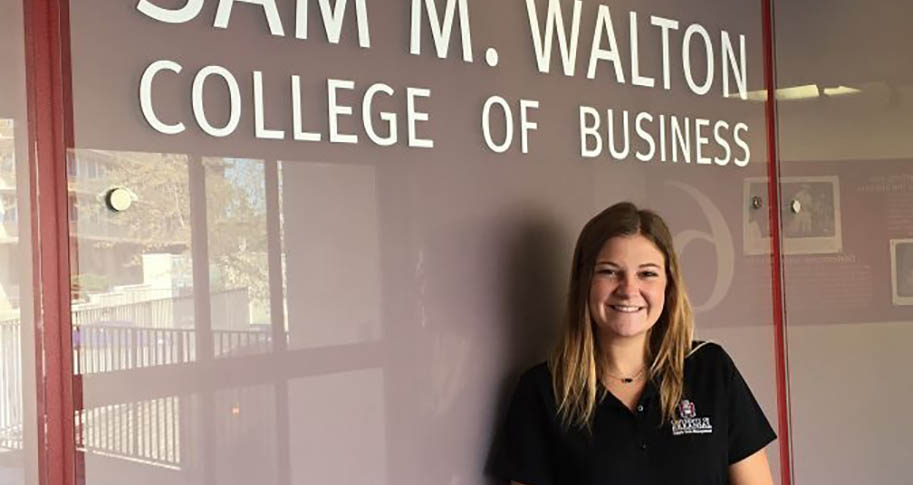 Monica Sewell, a sophomore from Overland Park, Kansas, is one of five students selected nationally this year to receive the AWESOME Excellence in Education Scholarship Award.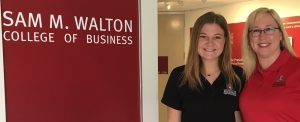 Sewell has a dual major in supply chain management and marketing and a minor in information systems at the Sam M. Walton College of Business, where she carries a 4.0 grade point average. "It's really exciting," Sewell said. "It seems like a great opportunity to network and get to know lots of women in the field of supply chain management."
Students from the University of Tennessee, Syracuse University, Texas Tech University and Michigan State University also received the award. "I look forward to representing the University of Arkansas and can't wait to meet the other four scholarship recipients," Sewell said.
AWESOME – Achieving Women's Excellence in Supply Chain Operations, Management and Education – is supply chain management's most active and prominent organization fostering leadership by women. The awards offer university women the opportunity to participate in the Council of Supply Chain Management Professionals Edge Conference and the annual AWESOME Symposium. The five 2017 recipients bring the total of AWESOME Scholars to 22.
Faculty nominated young women who demonstrate superior supply chain leadership potential who were currently enrolled and who also will be enrolled the following fall in the university's M.B.A., master's degree or undergraduate supply chain program. A committee of supply chain leaders selected the five recipients.
Stephanie Thomas, a clinical assistant professor in the Walton College's Department of Supply Chain Management, nominated Sewell for the honor. In her nomination letter, Thomas wrote of Sewell: "Successful women supply chain leaders need to be able to wear many hats, and Monica is already doing that successfully. She has maintained a perfect 4.0 GPA while also being active in a variety of campus activities, working, and finding time for community service projects."
Sewell serves as the vice president of finance of the U of A group Women Impacting Supply Chain Excellence and is a member of the Arkansas Supply Chain Association. "WISE has been super beneficial to give me networking opportunities and helped me develop different skills, specifically leadership, for my future career," she said. "I've never had financial experience so it's been cool to gain experience with that side of it by managing money. That helped me learn a lot about budgets and fiscal responsibility."
She will intern this summer with Gojo industries in Akron, Ohio, focusing on global supply chain issues.
Sewell has long been interested in a business career.
"I was in DECA in high school and attended national competitions," Sewell said. "This solidified that I wanted to focus on business. I selected supply chain after evaluating the wide variety of career options in the field and the growth opportunities."