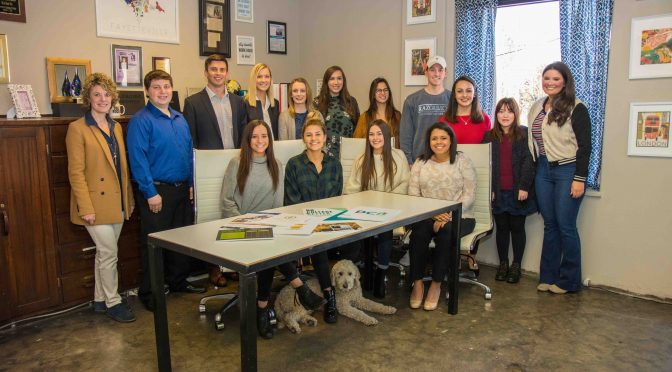 Marketing students at the Sam M. Walton College of Business helped a Fayetteville company rebrand itself so it can in turn help students Do College Better.
The Integrated Marketing Communications class taught by Anne Velliquette, a clinical assistant professor in the Department of Marketing, took on a project to assist Anna Morrison's Campus Concierge business in Fayetteville rebrand itself to better serve today's college students.
The business had evolved over the years from one that provided concierge-like offerings such as laundry and airport shuttles to focus on things such as tutoring, professional and personal development. But what have also evolved are the times. The company's brand image and culture have drastically changed over the years, and Morrison wanted a new marketing initiative and logo to represent who they are today. Velliquette's students accepted the challenge.
Morrison decided to go with one student team's concept of Do College Better and will be rolling out the new logo and brand name in early February 2018. A member of the marketing team at Campus Concierge said, "Be on the lookout through social media @docollegebetter for updates and surprises."
Here's are the members of the student teams and the ideas they came up with:
Omni Advertising Team: came up with new brand name College Compass. Team members: Blake Barron, Brittany Butler, Julia Fitzer, Caylee Ford, Tyler Manning, and Ellen Winkel.
Alpaca Advertising Team: came up with new brand name College Guru. Team members: Natasha Farah, Macy Anderson, Nicole Bartlet, Dillon (Chaz) McCurry, and Hayden Rasmussen.
Circuit Advertising Team: came up with DCB (Do College Better) for their rebrand name. Team members: Madison Landry, Taylor Conaway, Martina Aranda, Jiayu Ling, and Denise Ingabire.