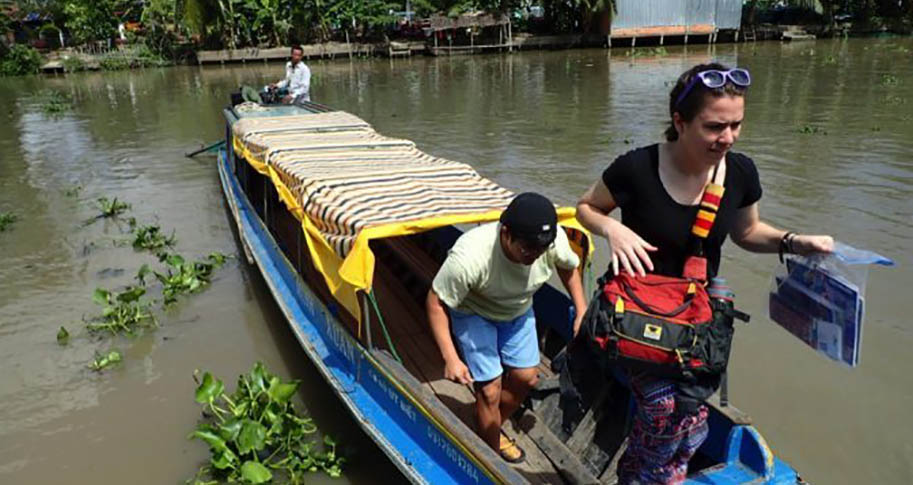 Students and faculty from the University of Arkansas worked in the Mekong Delta of Vietnam in the summer of 2015, learning from, working with and teaching people in the Hoa An village.
As part of a service learning program, students from the Sam M. Walton College of Business, the J. William Fulbright College of Arts and Sciences and the Dale Bumpers College of Agricultural, Food and Life Sciences helped construct biodigester systems and taught primary school children how to use computers.
"These were such good days," said Steve Kopp, associate professor of marketing and one of the faculty co-leaders of the Vietnam program. "The biodigesters are installed at individual farms, and allow the farmers to make their own fuel for cooking, which means a lot when the per capita income is less than $1,000 a year. Our students learned a lot just by being in this small village, to see how resourceful the Vietnamese are with such limited resources. But then they did research about the biodigester processes and installed a couple of them, so it was really a meaningful experience."
Students learned about the biogas systems and gave personal computers to a primary school. U of A students and local teachers installed the computers and developed simple "how to use" lessons.
"For some of these kids, it was the first real computer they had ever seen," said Hailey Pullin, an honors sophomore majoring in mathematical sciences. "Up to that point, the teacher could only bring a photo to class and say, 'This is what a computer looks like.' The kids had never turned on a computer or used a mouse."
Much of the summer's program was focused on sustainability. The Mekong Delta, because of its topography, location and reliance on the Mekong River, is particularly sensitive to climate change. The primary business is agriculture, and changes in sea level changes the acidity of the soil, which affects crops. The main product of the region is rice.
"We learned a lot about the environmental impacts of different types of business and farming practices," said Courtney Cooper, a freshman horticulture major. "In one part of the Delta, the original natural production was mangrove trees, which were replaced with rice fields, which have now been replaced with shrimp farms. The chemicals and resources used to produce shrimp are very damaging to the local ecosystem, so it is the 'last use' of that land for agriculture."
The program for 2016 is a three-hour, January Intercession course. All majors are welcome.