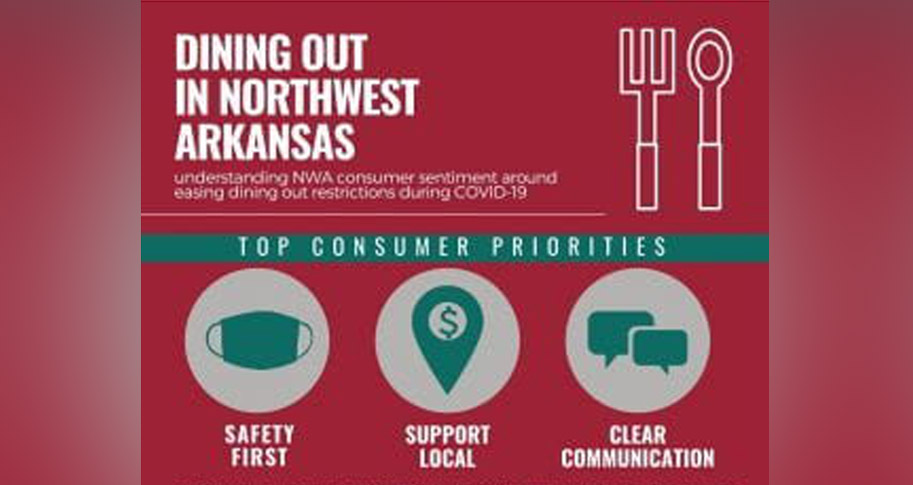 The goal was to empower local restaurant owners with information before they made plans to open. The full analysis was shared with the restaurant forum, led by the ASBTDC, to help them activate a successful re-opening.
"This pandemic has had its toll on everyone, but has severely impacted local small businesses," said Mary Beth Brooks, the executive director of the ASBTDC. "We are doing everything we can to help get them back up and running, but really needed to understand the local sentiment in order to give them an accurate outlook."
In May, two undergraduate students with the McMillon Innovation Studio created a survey that received over 2,000 responses and helped to conduct more than 93 phone interviews.
"People in the region were very willing to talk to us about restaurants re-opening. It was encouraging to hear all the support for local businesses. They love their local restaurants," said Daniela Salonen, a junior who is an information systems major at the University of Arkansas.
According to the survey, more than 70% of respondents said they would prioritize local for fine dining and casual dining restaurants. Supporting local and safety were the top factors for choosing a restaurant since the pandemic, the survey found.
Jessica Salmon, who leads the McMillon Innovation Studio, said, "We love to take on opportunities that provide value to industry and academia. In this case, we had two undergraduate students on the front lines of analyzing the data and synthesizing insights for the community during a critical time of need. We were also grateful for the support of Molly Jensen, Ph.D., a marketing faculty member who helped with the quantitative analysis and has a huge heart for helping the community."
Another key insight from the survey and interviews was the importance of emphasizing safety for the re-opening. Majority of respondents were concerned for their safety, as well as the safety of the restaurant staff.
Respondents highlighted the importance of (1) regular and consistent communication on re-opening in addition to (2) physical signals of safety measures.
"Interviewees were passionate about how they were communicated with – they wanted to see more updates on social media. It seems like during this time there is no such thing as over-communicating," said Carter Cowman, a senior marketing student and McMillon Studio project leader. The top safety measures that respondents wanted in addition to the CDC guidelines (e.g. masks, gloves, etc.). were hand sanitizer, no or limited waiting area and staff temperature checks.
As a result of the survey, there has been a regional #MaskUpArkansas campaign created to reinforce the importance of wearing face coverings to reduce the spread of COVID-19 in Arkansas.
If you want more information regarding the survey results, contact Mary Beth Brooks at mebrooks@uark.edu or to the ASBTDC office at sbdc@uark.edu or BusHelp@uark.edu.
The Arkansas Small Business Technology and Development Center at the University of Arkansas provides free confidential consulting to businesses throughout Northwest Arkansas. Whether you are a first-time entrepreneur or someone looking for a competitive edge for an established business, ASBTDC is here to help you succeed.
The McMillon Innovation Studio is part of the Office of Entrepreneurship and Innovation at the University of Arkansas and exists to shape the future by inspiring students to be catalysts of innovation.