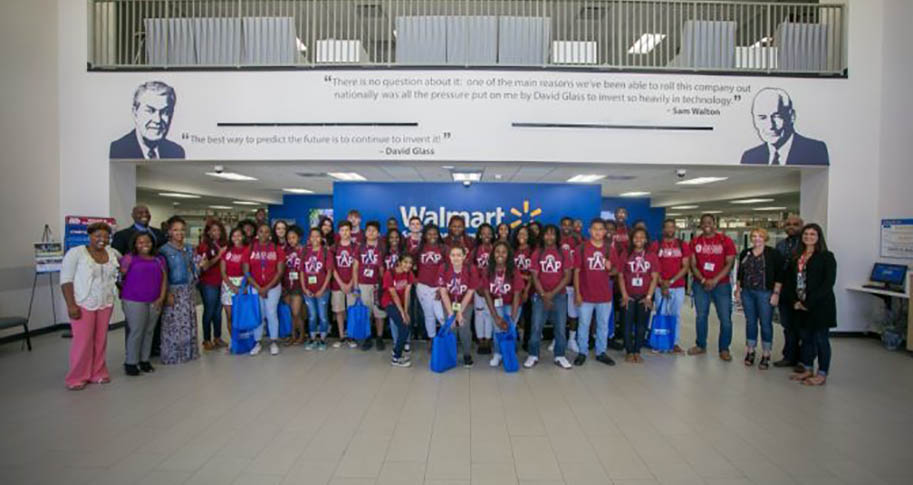 Campers enjoyed the full university experience by living in a dorm, dining at Brough Commons and meeting faculty and staff. They also participated in a technology gamification app project, researched topics at Mullins Library and presented their findings as part of a closing ceremony. They heard staff members discuss potential salaries of technology professionals and how to apply for admission to the U of A.
Leaders from Walmart, Tyson Foods, Movista, J.B. Hunt Transport Services, Inc. and Arvest Bank Operations participated on two professional panel discussions, one related to the use of technology and the other related to the creation and support of those technologies. Attendees were able to ask questions to learn more about technology and careers. Campers also toured Walmart's Information Systems Department to see professionals in action.
The camp culminated with student teams pitching business cases for gamification apps.
"Every year I am surprised by the level of innovation these high school students deliver," said Erica Holliday, a lecturer in the Department of Information Systems. "Technology industries need students like these to create new ideas and to establish a diverse, well-rounded work environment – both invaluable to business."
To attend the camp, participants must hold a 3.0 GPA, submit three essays and be a rising high school junior or senior. The camp was made possible by the Information Technology Research Institute board members: ArcBest Technologies, Arkansas Blue Cross Blue Shield, Arkansas Department of Information Systems, Arvest Bank Group, ConocoPhillips, Dillard's, Inc., FedEx Services, Hewlett Packard, InContext Solutions, J.B. Hunt Transport Services, Inc., Movista, Phillips 66, Teradata, Tyson Foods and Walmart.