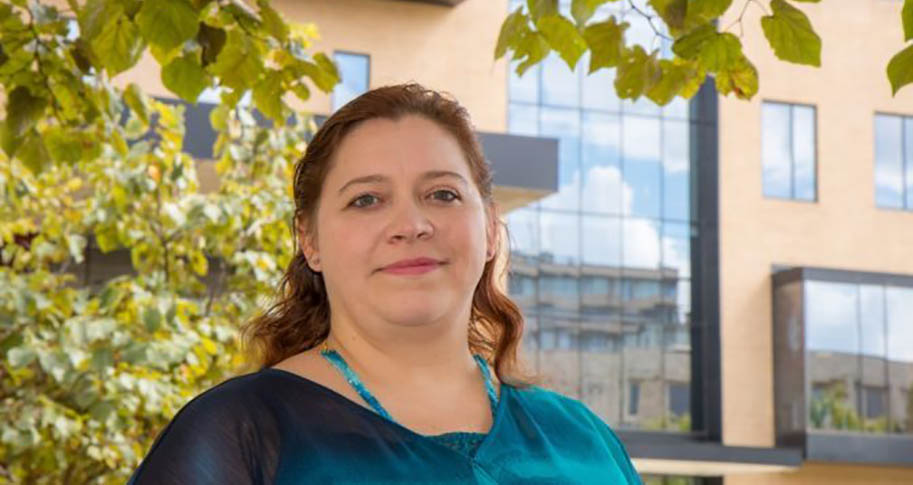 Tracy Sykes, an assistant professor in the Department of Information Systems at the Sam M. Walton College of Business at the University of Arkansas, was recognized in three separate business journal lists as the most productive researcher in the world among all information systems assistant professors earning a Ph.D. in or after 2000.
In 2015, Sykes was identified as the most productive in the IS-2 (Information Systems Research and MIS Quarterly) list and tied for most productive in the Financial Times and University of Texas at Dallas journal lists. The latter two lists are business journal lists, underscoring the breadth of Sykes' contributions.
In her ongoing research, Sykes looks at enterprise systems through a social network lens to see how companies make business decisions with hardware and software. Often enterprise systems implementation doesn't meet deadlines, exceeds budgets, are not fully utilized or fully fail.
More than $3 trillion is spent on enterprise systems worldwide annually. That's big business. But when some 65–80 percent of these systems fail, that's bad business.
"This is a very problematic area," Sykes said.
When enterprise systems success rates are low, turnover rates and job stress rise, and job satisfaction plummets. Typically, people reach out to coworkers in times of stress. How employees cope can help businesses improve the overall business systems and processes.
One of the biggest costs to an employer is the time and money spent on training, change management and consultants. To offset the costs, businesses create traditional support structures through training programs, change management systems, help desk departments or online manuals. Employees use these resources, but often turn to "advice networks" for quick or easier answers. These networks include coworkers and mentors. Perhaps most useful to organizations is learning that their big budget items, such as training and other support, are not as effective as employees' networks.
Examining work relationships or friendships, advice sources and hindrances can give clues to the cultural environment and overall health of a company. These social networks demonstrate how employees learn and grow on the job. They are critical to improving the chances for successful implementations of information systems.
"I'm a people person," Sykes said. "I'm fascinated by what people can bring to organizational success that other resources cannot. Our stories can be so different and we can learn from them."
Information technology deals with hardware and software, while the information systems discipline is the bridge between information technology and business processes.
"It is a critical blend of technology and people skills," Sykes said. "It's the hardware, software processes and people that in conjunction with one another turns data into useful information."
In the fall semester, Sykes teaches three classes, works on ongoing research projects and is a member of various committees including the departmental research and Ph.D. committees. In the spring semester, she teaches one online class and dedicates much of her time to research. In the summer, she often travels to China, Hong Kong and Malaysia to conduct research.
Her other work focuses on electronic medical care system implementations and the diffusion of technologies in rural settings in developing countries. In these contexts too, she uses social networks to understand implementation barriers and tries to figure out solutions to overcome these barriers.
Looking forward, she wants to continue to grow as an academic and pursue her research and teaching interests while serving the academic community both in Arkansas and her academic discipline of information systems.