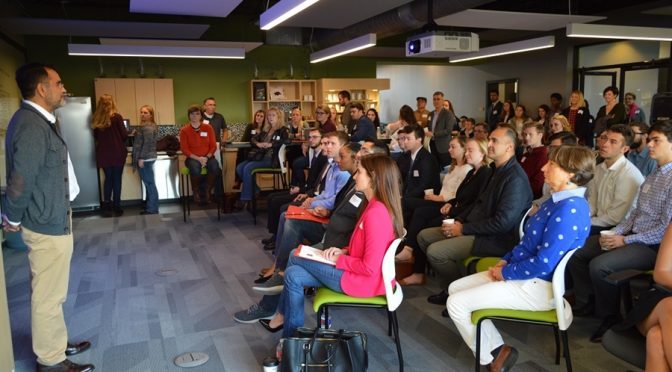 The Social Innovation Challenge is the annual capstone event of the University of Arkansas Social Innovation Initiative, a collaboration of faculty members and external organizations led by Director of Social Innovation Rogelio Garcia Contreras. The initiative offers University of Arkansas students, faculty and staff the opportunity to learn about pressing social and environmental problems defined by partner organizations (many of them local).
"Having two teams with incredibly diverse solutions showcases the essence of this project," said Jacqueline Tilton, a doctoral candidate and instructor in the Walton College Department of Management. Both teams participated in Tilton's fall section of Ethics and Corporate Social Responsibility, one of nine courses participating in the Social Innovation Initiative. "Organizations of all types can find innovative solutions that do good in the community and beyond, from Rockline Industries, a for-profit paper manufacturer dedicated to sustainability, to SLS, a non-profit committed to improving the well-being for those on the autistic spectrum and their families."
During the fall 2017 semester, students formed 16 interdisciplinary teams to tackle problems using entrepreneurial principles and business disciplines. Area organizations that submitted challenges were Arkan-Code, Canopy, NWA Continuum of Care, Elizabeth Richardson Center, InkDwell, KYYA Chocolate, Chew and Charity Solutions, Rockin' Baker, Rockline Industries, Spectrum Living Solutions, Storyville and Tri Cycle Farms. The purpose of the competition is to showcase the innovative solutions and ideas that the students developed, with four finalist teams presenting ideas on behalf of Spectrum Living Solutions, Storyville, Rockline Industries and Northwest Arkansas Continuum of Care.
Sarah Brown, business development manager at Heifer International, delivered a keynote talk on social entrepreneurship at the day-long event. Brown said, "It was an honor to be part of the Social Innovation Challenge. This type of thinking is required in undergraduate education to prepare the next generation of leaders. I was impressed by the unique approaches students took to solve complex social problems." Brown was also one of eight judges. "At Heifer, this methodology and approach is exactly what we instill in our staff and those with which we work in the field. There is so much opportunity in the social enterprise sector, and I am excited to see it take form at the University of Arkansas," she said.
About the Office of Entrepreneurship and Innovation: The mission of the University of Arkansas' Office of Entrepreneurship and Innovation is to catalyze entrepreneurial activities and innovation across the university and throughout the state in order to build Arkansas' knowledge-based economy and support healthy, sustainable communities.