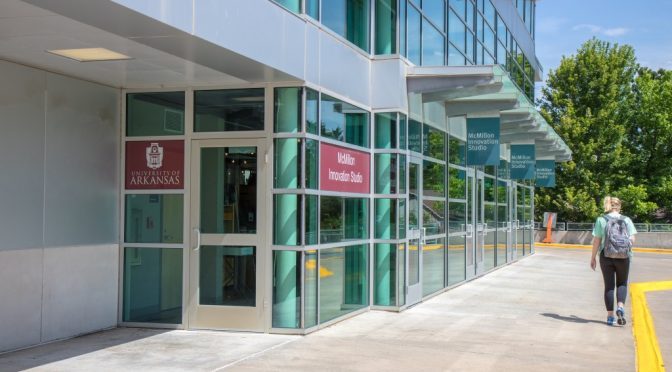 Within her fall 2017 Freshman Business Connections class, Shook assigned a team project to create a video overview of the McMillon Innovation Studio on campus and then present their findings in class. The studio, a gift from Walmart chief executive officer and Walton graduate Doug McMillon and his wife Shelley, tests new technologies and is designed to impact the future of retail. The project, designed by McMillon Innovation Studio director Clint Johnson and Shook, required teamwork, time management, exploration of Walton College resources and networking with classmates.
Freshman Business Connections, often referred to as FBC, is taught to first-year business students to acclimate them to campus, understand what resources are available to them, introduce them to other freshman and help them be successful at the Walton College. It introduces them to David W. Mullins Library for research, academic integrity and ethics, the Business Communications Lab for writing assistance, the Credit Counseling of Arkansas for personal finance management, Walton Career Services for job readiness and the degree opportunities at Walton. The class also helps students' transition from high school to college by nurturing personal development skills such as time management, stress management, financial planning, health and wellness, diversity and team building.
"I would say team management was the greatest skill I improved at," said Jay Lovaas, a freshman from Canton, Ga. "I had to effectively communicate with my team members, help with any questions they may have had, and rely on them to check my work as I checked theirs."
After selecting teams, the freshmen interviewed staff and students at the studio and created outlines for videos and presentations. Each student was responsible for a portion of the project and collaborated with the team on deliverables.
Team members Ryan Hardwick, Alexis Humm, Cydney Feinstone, Elijah Kaplan and interviewer Noah Tidmore recorded video, captured still photography, created graphics and wrote interview questions. In their video below, freshman Noah Tidmore interviews Kayla Bruskas, a senior accounting student and student manager for the McMillon Innovation Studio.
Team members for this video include Ryan Hardwick, Alexis Humm, Cydney Feinstone, Elijah Kaplan and interviewer Noah Tidmore.
"This project was created to show that freshmen students can do amazing things," Shook said. "These were great students who worked hard and with enthusiasm."
Throughout the project, students learned about the opportunities at the McMillon Studio, got to know their team members and explored campus. Simply put, the project helped freshmen get connected to their new life on campus.
"It was just a fun class," Lovaas said. "It gets you in the flow of going to class during your first semester. In my opinion, the greatest thing about FBC is meeting people."