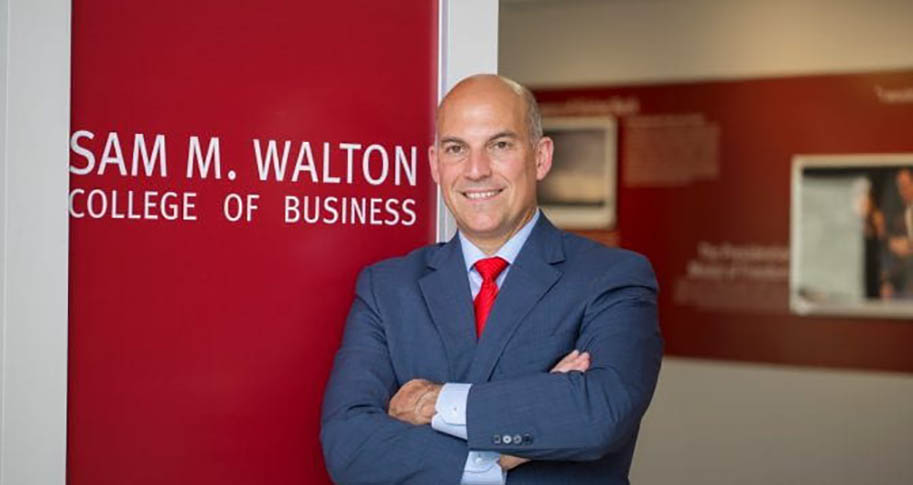 Matthew A. Waller, dean of the Sam M. Walton College of Business at the University of Arkansas, will be honored with the Council of Supply Chain Management Professionals' 2020 Distinguished Service Award, the most prestigious in the industry.
Waller will receive the honor during the CSCMP EDGE 2020 Live! Conference and Exhibition Opening General Session on Sept. 20.
"I am shocked, honored and thrilled to receive CSCMP's Distinguished Service Award," Waller said. "Thank you to Rick Blasgen, CEO of CSCMP, for his remarkable leadership of CSCMP to make this organization into the leading professional organization in SCM. I'm grateful to all of the leaders who wrote letters of nomination. I'm truly honored, especially given that last year, Kathy Wengel, executive vice president and chief global supply chain officer for Johnson & Johnson, received the award and the only other person from Arkansas to receive it is H. Lee Scott, retired CEO of Walmart Inc."
Waller is also a professor in the Walton College's Department of Supply Chain Management and holds the Sam M. Walton Endowed Leadership Chair in Business.
CSCMP's Distinguished Service Award is bestowed upon an individual for significant achievements in the logistics and supply chain management industry. Presented annually, the award was instituted in 1965 as a tribute to logistics pioneer John Drury Sheahan.
Under Waller's leadership the Walton College has started many new initiatives and reached out for interdisciplinary programs across the university. In 2016 the college opened the McMillon Innovation Studio with a gift from Walmart chief executive officer and Walton College alumnus Doug McMillon and his wife, Shelley.
Earlier this year, the Department of Accounting was endowed by Dillard's Inc. Chairman and Chief Executive Officer Bill Dillard and is now the William Dillard Department of Accounting.
Waller received a B.S.B.A. summa cum laude from the University of Missouri, and an M.S. and Ph.D. from Pennsylvania State University. His business experience includes being co-founder of Bentonville Associates Ventures and co-founder of Mecari Technologies. He has also consulted with consumer goods companies and high-tech growth companies.
He is co-inventor of U.S. Patent No. 6,341,269 B1 for a System, Method and Article of Manufacture to Optimize Inventory and Merchandising Shelf Space Utilization. He was co-editor-in-chief of Journal of Business Logistics, the leading academic journal in the discipline and he is an SEC Academic Leadership Fellow.
Waller is coauthor of The Definitive Guide to Inventory Management published by Pearson Education. He also co-authored with J.B. Hunt Transport Inc. Chairman Kirk Thompson the book Purple on the Inside: How J.B. Hunt Transport Set Itself Apart in a Field Full of Brown Cows, the story of leaders and team members who tap into their founder's spirit for innovation while maintaining the focus and high level of performance needed to grow. He is also co-author of Integrating Blockchain into Supply Chain Management.
CSCMP's Annual EDGE Conference is the largest of its kind for supply chain management industry and is the only event representing the entire supply chain from end-to-end.