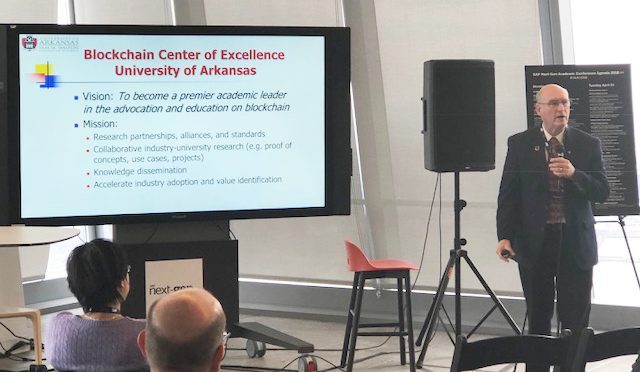 At an academic conference in New York, Paul Cronan, professor in the Department of Information Systems at the Sam M. Walton College of Business, and David Douglas, emeritus professor of information systems, presented details about University of Arkansas' blockchain consortia to the SAP Academic Conference.
At that April conference of leading educators, SAP University Alliances named the Walton College's Enterprise Systems Blockchain Initiative as an SAP Next-Gen Chapter.
SAP Next-Gen Chapters are lighthouse campuses that are multipliers of the SAP University Alliances, sharing best practices in connecting start-ups, tech community partners, venture firms, purpose driven partners and SAP experts to reimagine the future of industries.
Walton College's Enterprise Systems Blockchain Chapter is a multiplier in the blockchain technology area of expertise. This includes gathering industries to solve problems, educating students on innovative methodologies, curriculum development and enabling academia to run events to make innovation and technology work together to support industry partners.
Cronan and Douglas shared challenges and issues involved starting and improving business blockchain-oriented programs based on experiences at the University of Arkansas and other degree programs. In addition, their presentation included U of A activities such as curricula designs, student hackathon and blockchain research.
This follows an April 2018 Blockchain Conference organized by Cronan where more than 225 industry experts and academics discussed the potential of blockchain technology and its application to the future of large and small businesses.