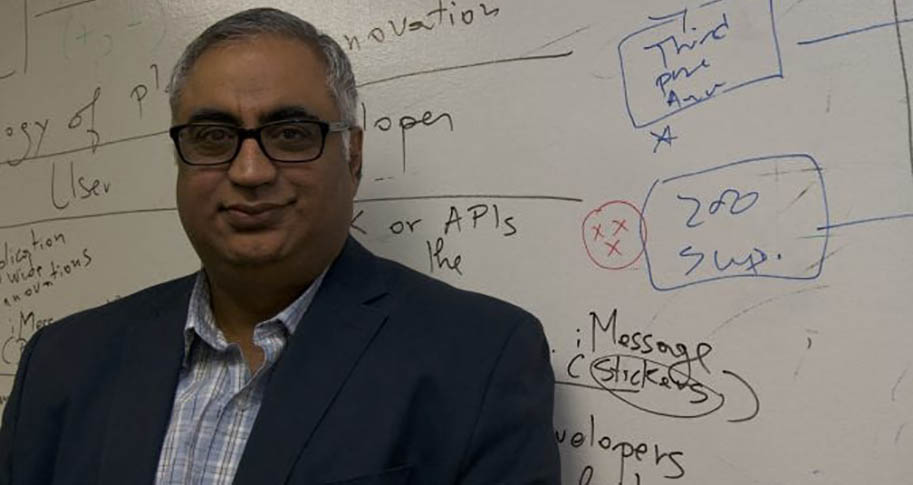 A recent ranking by Research.com showed that the Sam M. Walton College of Business boasts some of the top researchers in the country and the world.
Seven researchers appeared on the distinguished list, including Varun Grover, the George & Boyce Billingsley Endowed Chair and distinguished professor in the Department of Information Systems, who was listed as the 23rd top business and management scientist in the world and 15th in the nation for 2021.
Grover also holds an "H-index" of 88, which indicates that his publications are widely cited by other researchers in his field.
"These prestigious rankings reflect the influence that our top scholars have in shaping business research around the world. This demonstrates that our most accomplished researchers are true thought leaders," said Alan Ellstrand, associate dean for programs and research for the Walton College. "When we say we have world-renowned faculty, we really mean it!"
Research.com, an academic platform to assist researchers, annually ranks the top scientists in business and computer science based on their Google Scholar H-index and number of citations.
Additional top cited researchers from the Walton College include:
Mary Lacity, professor of information systems and director of the Blockchain Center of Excellence, Department of Information Systems, ranks 130th in the U.S. and holds an H-index of 55.
Scot Burton, distinguished professor, Department of Marketing, ranks 134th in the U.S. and holds an H-index of 54.
Rajiv Sabherwal, distinguished professor, Edwin & Karlee Bradberry Chair, and chair of the Department of Information Systems, ranks 280th in the U.S. and holds an H-index of 41.
Vern Richardson, distinguished professor of accounting and the W. Glezen Chair, William Dillard Department of Accounting, holds an H-index of 33.
Remko van Hoek, clinical professor and the executive director of the CSCMP Supply Chain Hall of Fame, Department of Supply Chain Management, holds an H-index of 32.
Matt Waller, dean of Walton College, Sam M. Walton Leadership Chair, and professor of supply chain, holds an H-index of 31.
The H-index measures the scholarly impact of an author. It indicates how often an author/researcher's work is cited by others in professional journals. It also reflects the volume of published research produced. A high H-index number indicates that the scholar's research has been well received by academic researchers in his or her field.